Signature Trails
Signature Trails
Gwinnett County has several signature trails that are known for their unique features and are popular among residents and visitors. These trails offer diverse experiences and showcase the natural beauty and recreational opportunities within the county.
These signature trails, along with the proposed expansion under the Countywide Trails Master Plan, contribute to the overall trail network and offer residents and visitors ample opportunities to explore nature, stay active, and enjoy the outdoors in Gwinnett County.
Open Signature Trails
Our high-quality network of trails and greenways continues to evolve – not just as means to exercise and socialize but to provide innovative ways to travel across the county. Responding to the need for better connectivity, the Gwinnett County Board of Commissioners initiated the Countywide Trails Master Plan in 2018, which proposes nearly tripling the current mileage that our residents and visitors enjoy.

Hit any of the open Signature Trails in Gwinnett!
A. Camp Creek Greenway | Lilburn
B. Harris Greenway Trail | Lawrenceville
C. Ivy Creek Greenway | Buford & Suwanee
D. Sugar Hill Greenway | Sugar Hill
E. Suwanee Creek Greenway | Suwanee
F. Western Gwinnett Pathway | Duluth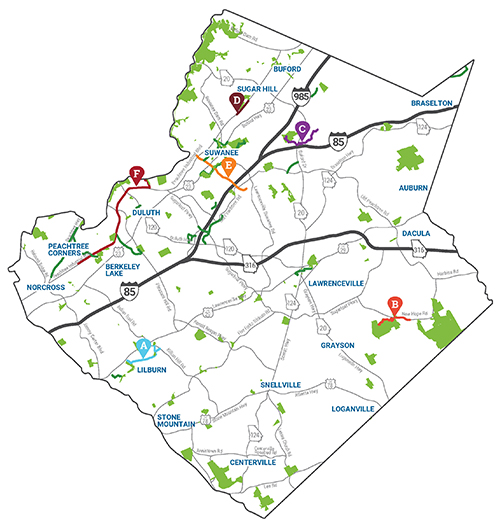 Proposed Signature Trails
The proposed Signature Trails, which signify that these facilities will be the hallmarks of the network, were identified because of their importance in the overall system regarding scale, amenities, connectivity, location, and other defining features.
Proposed Signature Trails outlined in the 2018 Gwinnett Trails Master Plan: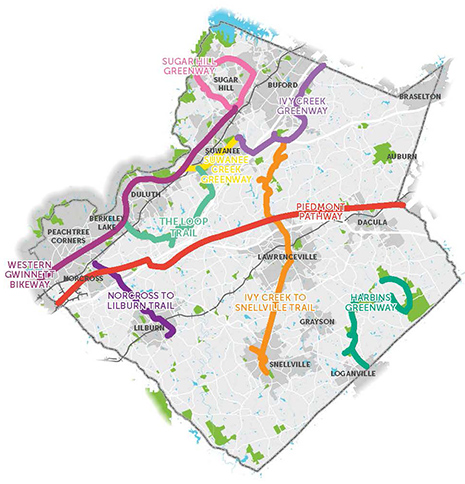 \