Employees in Action
County Employees Serving in Great Days
A huge round of applause to all the staff that participated in Great Days of Service 2020. Together we collected over
3600 items that were donated
to help families at HomeFirst Gwinnett. Check out our amazing photos on collection day.
Junior Achievement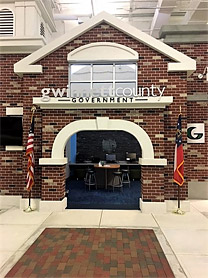 Gwinnett County Government employees are dedicated to giving back to our community. Each month 20+ employees volunteers and share their life experiences to coach a small group of students through their day at JA Discovery Center @ Gwinnett. The Discovery Center gives middle school students a glimpse of their professional and financial future that awaits them. The Gwinnett County Government volunteer partnership and storefront sponsorship impacts over 30,000 students per year.
Good afternoon Muriam,
I wanted to thank you for being a driving force for volunteer activities in the county as a whole, and for the Junior Achievement initiative specifically. I have been aware of the JA program for a few years now but I never made the opportunity to participate. Since one of the motivations behind transitioning to work at Gwinnett County was to make a positive impact in the community, I jumped at this opportunity when I saw it. I didn't know what to expect from participating in this activity, but I can tell you that my expectations were far exceeded. First, the facility was amazing. Junior Achievement and the business sponsors have put a great deal of effort to ensure our young people are given a first class experience on being an accountable professional and good citizen. Second, the staff at Junior Achievement have the process down pat. From the moment I arrived, to the time we were released, I felt that I knew everything I needed to know to help in my role as CVO. Also, they kept all of the 100 plus students focused and aligned to their purpose for being there. That in itself was extraordinary!!! Third, since I am still fairly new to working at Gwinnett County, this event provided me an opportunity to meet fellow employees working in different facets of the county. Finally, the biggest thing that I took back from this experience was that in spite of our current political environment, those young people instilled in me a sense of hope that our future is in good hands. Seeing those students accept the responsibilities given to them and perform at the high level of professionalism that they did, it emphasized to me where the real value of our country resides, it's in the spirits of our young and diverse population here in Gwinnett County.
Thank you again Muriam, and I look forward to future volunteering opportunities!!!
Best Regards,
Leland L. Buggie | Business Relationship Consultant | Gwinnett County Government