Meet the Team
Management Profiles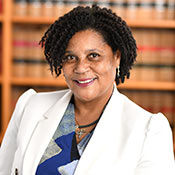 District Attorney
Patsy Austin-Gatson
770.822.8400
Patsy.Austin-Gatson@gwinnettcounty.com
District Attorney Patsy Austin-Gatson is committed to the excellence of Gwinnett County, and her core values for prosecution are justice and fairness. She made a commitment to work with Gwinnett residents and stakeholders to bring positive progressive change. Paramount to her vision is the safety of Gwinnett, second chances, protecting victims, and keeping young people from entering the criminal system. She will also hold those who commit crimes accountable. Equity and fair justice are the hallmarks of her administration. It is her top priority to lead with restorative justice to decrease recidivism and reduce mass incarceration. D.A. Austin-Gatson is proud to be a history maker, as the first person of color and woman, to ever be elected to the District Attorney's Office, Gwinnett Judicial Circuit and she hopes that this will inspire the next generation of young people.

D.A. Austin-Gatson has practiced law for thirty-two years in both criminal and civil matters. She started her legal career with the Attorney General's Office of Georgia, then became a law firm associate. She continued in private practice in 1992, when she opened her law firm, Austin & Associates, and handled criminal, family, and civil rights employment cases. Prior to her election, she was Supervising Attorney in the Gwinnett County Solicitor's Office where she managed records restrictions and oversaw twenty-five staff members.
D.A. Austin-Gatson graduated from Emory University, School of Law and received a Bachelor of Science from Syracuse University, School of Human Development. While in law school, she developed her sense of service through her internships with the Federal Trade Commission and Brooklyn District Attorney's Office. She is admitted to practice in all Georgia Superior and State Courts, Court of Appeals, and the Georgia Supreme Court. She is also admitted to the 11th Circuit U.S. Court of Appeals and Federal Courts in the Northern, Middle, and Southern Districts. D.A. Austin-Gatson has served in multiple capacities as a volunteer. She worked with Berkmar Highschool student Young Litigators, the Red Cross following Hurricane Katrina, Hospice Care, Peru Mission Trip, and the Greater Eastside Chamber of Commerce feeding program and others. D.A. Austin-Gatson is the youngest of six siblings and family is most important to her. She has been a Gwinnett County resident for twenty-three years where she and her husband, Travis Gatson, raised three children and have two grandchildren. She enjoys reading and traveling and one of her fondest memories is of her trip to Maui.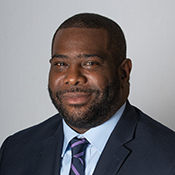 Chief Assistant District Attorney
Daryl Manns
Daryl E. Manns started in 2016 as Gwinnett Assistant District Attorney and is now Chief Assistant District Attorney and directly oversee the Drug and Gang Taskforce for the Gwinnett Judicial Circuit. He is second in command under the leadership of District Attorney Patsy Austin-Gatson. Formerly, he was Assistant District Attorney in the Houston County District Attorney's office. He also worked in private practice handling civil and criminal cases.
Daryl is dedicated to increasing access to students of color to the legal profession. Since law school, he continues to coach high school mock trial teams and has mentored dozens of young people to motivate them into the legal field.
Daryl also served on the Executive Board of the Greater Atlanta Black Prosecutors Association.
Daryl is a proud graduate of Morehouse College and Ohio Northern University Pettit College of Law. While in law school, he was the Student Bar Association President for the 2008-2009 term. He summered with the Houston County District Attorney's office working primarily with cases in Juvenile Court where he further his passion for serving people in the criminal justice system. Daryl also had an opportunity to summer with the Allen County Public Defenders' office representing indigent defendants.
For personal hobbies, Daryl enjoys reading about justice and politics and is a Star Wars fan but also likes Star Trek.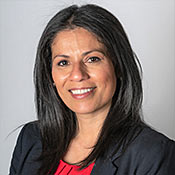 Deputy Chief District Attorney
Sabrina Nizam
Sabrina Nizam is a Georgia native who grew up in Gwinnett County and graduated from Gwinnett County Public Schools. After graduating from high school, Sabrina went on to Georgia State University where she obtained a degree in Political Science and then to the Walter F. George School of Law at Mercer University in Macon, GA. After her graduation from Law School, Sabrina served as an Assistant Solicitor–General in DeKalb County prosecuting a range of misdemeanors before accepting a position as an Assistant District Attorney in Gwinnett County in 2004. Sabrina went on to serve as a Managing Attorney within the office and currently serves as a Deputy Chief Assistant District Attorney.

She has been a felony prosecutor for over sixteen years, prosecuting a range of crimes including, drug trafficking, rapes, child crimes, domestic assaults and murders. She has routinely appeared on HLN, Tru TV, In Session, and Court TV as a guest commentator speaking on a variety of national criminal cases. She is also an instructor for local and state law enforcement, as well as other prosecutors in the State. Sabrina is a member of Georgia Association of Women Lawyers- Gwinnet chapter, National Asian Pacific Islanders Prosecutors Association, and works extensively within the South Asian and local refugee communities educating individuals about the law and helping them navigate through the legal system. Sabrina is also fluent in three languages.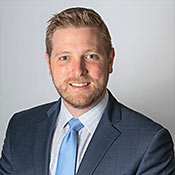 Deputy Chief District Attorney
Brandon Delfunt
Brandon currently serves as the managing attorney for the Gwinnett Drug and Gang Task Force. The task force is responsible for prosecuting this office's complex cases, wiretap cases, high-level drug trafficking cases and cases involving criminal street gang activity. The Task Force also assists law enforcement agencies in Gwinnett County and the surrounding areas obtain search warrants and court orders for a variety of electronic evidence. Brandon graduated from the University of North Georgia with a degree in Political Science and Sociology.

After graduation he worked for the Georgia Department of Community Affairs before attending law school at Regent University in Virginia Beach, Virginia where he served on the law review and as the president of the student bar association. After graduating from law school Brandon continued to work for the Department of Community Affairs before joining the Cherokee County District Attorney's Office where he prosecuted felony offenses. During his time in Cherokee County Brandon, in addition to prosecuting all types of felony offenses, also served as the domestic violence prosecutor and juvenile court prosecutor. In 2016, Brandon joined the Gwinnett County District Attorney's Office. Since that time, he has tried cases involving murder, armed robbery, human trafficking, drug trafficking and gang activity.


Deputy Chief District Attorney
Wanda Vance
Wanda Vance is a life-long Gwinnett County resident who grew up in Lawrenceville and graduated from Central Gwinnett High School. After graduating from high school, Wanda attended the University of Georgia where she obtained a Bachelor of Arts in English and a law degree. She started her prosecution career as an Assistant Solicitor in the Gwinnett County Solicitor's Office in 2002 before joining the Hall County District Attorney's Office in 2004. In Hall County, she worked on every type of felony case at every stage — from arrest to appeals, shoplifting to murder, and became the Chief Assistant District Attorney in 2013. During her tenure in Hall County, she was named Assistant District Attorney of the Year in 2015 by the District Attorneys' Associate of Georgia. Because she believes that prosecution and law enforcement should work as a team to ensure fairness and justice, she has trained both police officers and prosecutors across the state. Prior to leaving Hall County, she also served on the board of Rape Response, where she worked to be a compassionate voice and advocate for victims of sexual assault whether they were women, men, or children. She was excited to return to her hometown in Gwinnett to prosecute in 2021.
After her years in Athens at the University of Georgia, Wanda settled in Gwinnett and raised her family here. Her two children are her favorite people on earth, along with the two family cats that keep her busy. When she's not working or loving on her children, she likes to run and garden. She loves the diversity and opportunity Gwinnett has to offer and has been fortunate to grow up here and raise her family here.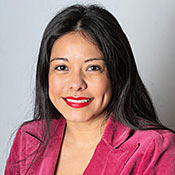 Justice and Community Initiative Senior ADA
Brenda Lopez Romero
Brenda Lopez Romero is Senior Assistant District Attorney for the Gwinnett Judicial Circuit handling special projects. Brenda was the first American Latina elected to the Georgia General Assembly where she sat on the Education, Retirement, and State Planning and Community Affairs committees. She has worked over 15 years in the education, legal and political advocacy of immigrants and low-income families. Formerly, she was a principal attorney handling removal defense and immigration and nationality matters. Brenda holds a law degree from Syracuse University with a National Security and Counterterrorism certificate and a bachelor's degree from Georgia State University in Political Science and Sociology.

While in law school, she was a clerk for Georgia Legal Services Program, American Civil Liberties Union, and an extern for Trial Judge Laura Galvan Salgado for the First District Court of Morelos in Mexico. Brenda has extensive involvement in community organizing and affiliations with the American Immigration Lawyers Association, Hispanic National Bar Association, and Georgia Hispanic Chamber of Commerce. She is also a member of Leadership Georgia, Leadership Atlanta, International Women's Forum, U.S. Global Leadership Coalition, and Truman National Security Project. Brenda is also currently the Chairwoman of the Gwinnett Democratic Party. Additionally, she serves on board of directors for the Georgia Association of Latino Elected Officials and chairs its federal political action committee. Among her lengthy volunteerism, she is most proud of her work as a former G.E.D. instructor with the Marist School Adult Education Program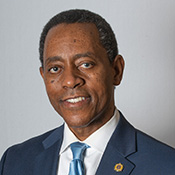 Justice and Community Initiative Senior ADA
Herbert Adams
Herbert Adams, Jr., is a Senior Assistant District Attorney and Co-Director of the Justice and Community Initiative (JCI). The JCI operates the Conviction Integrity Unit and Sentence Review Unit while also spearheading various special projects. A former Assistant District Attorney in DeKalb County, Herbert has spent most of his career as a criminal defense and personal injury lawyer. He has tried about 100 criminal and civil cases to verdict, and litigated dozens of appeals. (Due to his vast courtroom experience, Herbert will be involved in some major trials.)

Herbert has been a traffic court judge and a part-time instructor at Clayton State University, teaching courses in criminal law, history and political science. He holds degrees from Georgia Tech, Southern Methodist University (SMU) and Harvard. During law school he spent a semester studying at Oxford University in England. He was the youngest person ever appointed to the board of trustees at Rev. Dr. Martin Luther King, Jr.'s church, the historic Ebenezer Baptist Church in Atlanta. As a boy, Herbert listened to King's sermons. Like his late father, Herbert is a proud member of Omega Psi Phi Fraternity. He and his wife, Francine, a college English professor, reside in Jonesboro and Atlanta.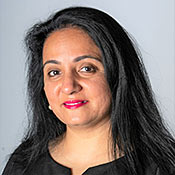 Victim Witness Director
Uzma Khan
Currently, Ms. Khan is proud to be a part of beautiful change at Gwinnett County District Attorney's office by serving as a Director of Victim Witness Program with determination to provide resources and opportunities to make Gwinnet communities Greater, peaceful, safe, and ideal place to live and raise families.
A graduate of Kennesaw State University with a Bachelor of Science degree in Exercise and Health Science, and a Master's in Public Health from Mercer University.
Ms. Khan is a dedicated public health professional who has worked in various public-private sectors of health care. Ms. Khan serves as a patient advocate throughout metro Atlanta, frequently providing in-hospital translation services for Afghan, Indian, Pakistani and Bengali patients. She also developed and implemented a targeted exercise program that aided elderly dementia residents at the Savannah Plantation Assisted Living program. In addition, Ms. Khan served as a Chair of Public Health committee of NPU-J, city of Atlanta and a Co-Chair of Pink Panel of Georgia State University working tirelessly to formulate an intervention for communities to help in breast cancer screenings. Ms. Khan is also a member of ICART and helping global researchers to stay connected and continue to work on breast cancer. From 2016 to 2018 Ms. Khan served Community Health and Men's Promotional Summit (CHAMPS) as an executive director. In 2020 she proudly served as an interim executive director of Georgia Prostate Cancer Coalition (GPCC), and currently she is an active board member of GPCC. Ms. Khan is a Co-Chair of cancer survivorship work committee of Georgia CORE (GC3) and tirelessly maintaining the momentum for saving lives and spreading awareness, education and providing resources to the communities of the state of Georgia.
Ms. Khan is a single mother of three beautiful children, two boys and one girl, she lost her husband, her best friend, and an amazing partner to prostate cancer in 2015.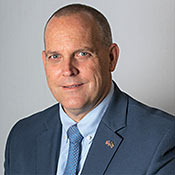 Chief Investigator
Adam Gardner
Adam Gardner is a true Law Enforcement professional with nearly three decades of dedicated public service experience in Georgia. He currently serves as the Chief of the Investigations Division with the Gwinnett County District Attorney's Office. Before coming to Gwinnett County, he was a Senior Homicide Investigator in the Fulton County District Attorney's Office in Atlanta, Georgia. During his many years of public service, he has established a vast range of experience in nearly every aspect of the judicial system, including, Prison Guard on Georgia's Death Row, Georgia State Patrol, Governors Executive Security Team, City of Morrow Georgia Police Department, and the Fulton County Sheriff's Office in Atlanta Ga, where he served as a Deputy Sheriff in Courthouse Security, Dignitary Protection, Jail Operations, Warrant and Civil Divisions, Sex Offender Unit, Family Violence Division, K-9 Bomb Unit and Recruiting Division.
Chief Gardner became a Certified Chief of Police in Georgia after graduating the Chief Executive Training Course hosted by the Georgia Association of Chiefs of Police. He also completed the Supervisor Leadership Institute hosted by the FBI-Law Enforcement Executive Development Association.
Chief Gardner is an active member and in good standing with the Georgia Association of Chiefs of Police, the Gwinnett County Police Chiefs Association, the Georgia Peace Officer Standards and Training Council and the FBI Law Enforcement Executive Development Association.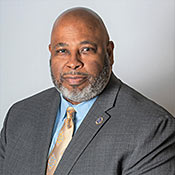 Deputy Chief Investigator
Curtis Clemons
Curtis Clemons is Deputy Chief of Investigators for the Gwinnett County District Attorney's office. Deputy Chief Curtis Clemons was raised in the metro Atlanta area by his mother. From modest beginnings, as the youngest of two brothers, Chief Clemons was taught core values of hard work, treating people fairly, and giving back to the community. Chief Clemons comes from a long family history of military service and law enforcement. He is a veteran of the United States Marine Corps. Chief Clemons formerly was a deputy sheriff and police officer in Gwinnett County working in Special Victims Unit, Burglary, and Homicides. He was also the first person of color appointed to Chief of Staff and Assistant Chief. He retired after thirty (30) years of service. Subsequently, he was an investigator and community outreach liaison with the Gwinnett Solicitor General's office.

Chief Clemons holds a bachelor's degree in Business Management and a Master's in Professional Business Leadership from Shorter University. Chief Clemons is a graduate of Gwinnett County's L.E.A.D. program (Leadership, Education, and Development), and the FBI's Law Enforcement Executive Leadership program. Chief Clemons serves as a mentor through the Gwinnett County Schools G.I.V.E. program and also as the Vice President of the L.E.A.A.D.S. (Law Enforcement Agencies Assisting in the Development of Students) program in Snellville, which helps to provide food for families, rent and utility assistance, and mentorship for Gwinnett's youth. Chief Clemons has been the recipient of the Most Distinguished Alumni Award from Shorter University for his work in the community, the Diversity Achievement Award, from Alpha Phi Alpha fraternity, and the Delta Sigma Theta Sorority Community Service Forum Award. Chief Clemons currently serves on several community impact boards to include the Gwinnett-NAACP, and the Gwinnett Remembrance Alliance in partnership with the Equal Justice Initiative.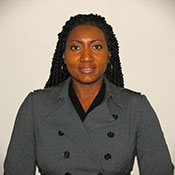 Assistant Chief Investigator
Daphne Tarver
Daphne Tarver has served in law enforcement since 1996. She began her career with the Miami-Dade Police Department after serving as a combat medic in the US Army. Honorably serving a decade in Miami, Daphne was tasked with several leadership roles, such as serving as a field training officer supervising probationary recruits and as a community service officer implementing research-based techniques and strategies for the development of blended law enforcement and community concerns models. In 2006, Daphne moved to Gwinnett County. She earned a position with the Walton County Sheriff's Office Criminal Investigations Division and the Alcovy Judicial Circuit Criminal Investigations Division. There, she conducted investigations related to major felony crimes, including homicides, adult and child sex crimes, and elder abuse. While in Walton County, she participated in the creation of their District Attorney's Office Special Victim's Unit, where she investigated at- risk adult crimes, supervised and monitored convicted sex offenders, and maintained the Sex Offender Registry.
Daphne joined the Gwinnett County District Attorney's Office in 2012. She was instrumental in the resurrection of the Special Victims Unit in 2016, initially serving as the sole investigator for the unit. She earned a criminal justice technical college degree from Miami Dade College and has since obtained numerous advanced certifications related to law enforcement. She is currently a member of the Sexual Assault Response Team, Elder Abuse Task Force, Child Fatality Review Board, Sexual Abuse and Child Abuse Protocol Boards, and the Child Abuse Multi-Disciplinary Team. She is also a training coordinator and a speaker focused on domestic violence law enforcement procedures, human trafficking and resources, child sexual abuse and maltreatment, sexual assault awareness, and self-defense. In February 2022, Daphne became the first woman of color to be appointed to the rank of Assistant Chief Investigator.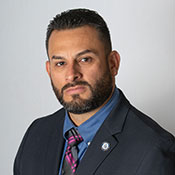 Assistant Chief Investigator
Andres "Andy" Rodriguez
Andres Rodriguez became Assistant Chief Investigator of the Gwinnett County District Attorney's Office in February 2022.
Andres started his law enforcement career in 2005 with the Gainesville Police Department as a member of the 201st Class of the North East Georgia Police Academy. In Gainesville, he was part of the Uniform Division where he served as a patrol officer, a K-9 Decoy, a proud member of the Honor Guard, and was part of the Domestic Violence Response Unit. In late 2007, Andres transferred to the Gwinnett County Police Department as a member of the 73rd Police Academy. In Gwinnett, he served in the Uniform Division as a patrol officer and later moved to the Criminal Investigations Section, where he served as a detective in the General Crimes and Homicide-Assault Units. Andres has obtained more than 2,000 of specialized training and has earned several certifications from the Georgia Peace Officer Standards and Training Council. He is currently a senior at Columbia Southern University and member of the Eta Chapter of Omega Nu Lambda. He is obtaining a Bachelor of Science in Criminal Justice Administration.
Andres was born in Colombia, South America and moved to the United States in 1995. He enjoys educating the public and giving back to the community. Andres appears in several radio and TV podcasts and speaks to students at different high, middle, and elementary schools. He also attends various Hispanic events and teaches at the police academies. He is the first Latino to have served on the Executive Command Staff in this administration's office.
Andres is married and is the proud father of two boys.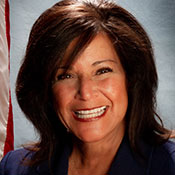 Assistant Victim Witness Director
Beth Gorski
Beth Gorski has been employed with the Gwinnett County District Attorney's Office since 2014. Assisting victims has always been Beth's passion. She has supervised a domestic violence shelter at Child and Family Services and has served as the executive director of the Will County Child Advocacy Center, a coordinated response center in Illinois that provides hope, healing, and justice for children who have endured severe physical abuse, sexual abuse, and exposure to violence.
Beth has served on various boards — including Joliet Hospice — and has been a mentor to high school students. She was also a past member of Gwinnett Giving Girls, which assists new nonprofit programs with grants. She continues to serve her community by volunteering and collecting food for local shelters.
Beth was raised in a suburb of Chicago. She attended college in Colorado and moved to Gwinnett County in 2001. Beth met her husband in Hawaii, and they have 2 children.