Business Services
Business Services Division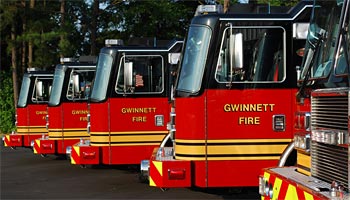 The Business Services Division provides a variety of services to both internal and external customers. The division is comprised of three operating sections and oversees the preparation and management of the department's annual budget and the SPLOST Capital Improvement Program.
Logistics is composed of a consolidated warehouse, SCBA management, and apparatus management. Personnel in the Fire Resource Management section provide warehousing functions for Fire, Corrections, and Police; including contract management, procurement functions, and deliveries. Personnel in SCBA management provide air and light support, routine maintenance of the self-contained breathing apparatus, and associated equipment and fit testing for all department personnel. Personnel in the Fire Apparatus section are responsible for all EMS apparatus, tools, and equipment including routine maintenance and testing. They are also responsible for writing specifications as they relate to all of the department's emergency apparatus.
Finance The finance section prepares and oversees the department's multi-million dollar operating budget each year as well as preparing the capital budget. They handle all EMS billing responsibilities including customer service, the collection of ambulance transport fees, and the reconciliation of all funds collected. In addition, personnel are responsible for processing payroll for the department, utility payments for all Fire facilities, and for responding to all attorney's requests for the production of documents.

Facilities Fire Facilities Management is responsible for the day-to-day general maintenance and repairs at all of the department's 31 fire stations as well as at several other support facilities including Fire Headquarters, the Training Academy, the apparatus maintenance facility, and the resource management warehouse. This includes all yearly planned maintenance and upgrades at the various facilities as well as responding to all emergency requests for repairs that may arise. Fire Facilities works closely with the division's Finance section in helping to identify the associated capital budget projects in the fire facilities for the next year. They also assist in identifying the appropriate budget needed to handle the various projects.