Training Academy
Training Academy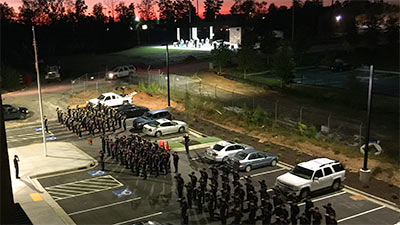 Gwinnett County Fire and Emergency Services' Training Academy focuses on all areas of employee development, beginning with initial fire and medical training and continuing along a specified career path. Additional in-service training programs and continuing education opportunities are also provided. The Training Academy's Paramedic Program is accredited by the prestigious Commission on Accreditation of Allied Health Education Programs, which ensures AEMT/Paramedic Class activities and student training standards.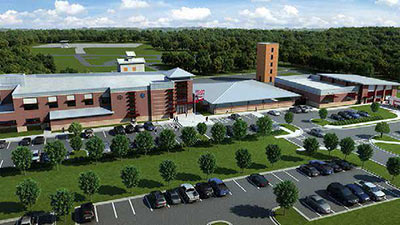 The Training Academy's facilities include a burn building, training tower, apparatus building and a low speed driving course. In addition, in 2015 the voter-approved 2009 SPLOST sales tax funded the construction of the Training Academy's new three-bay storage building for fire apparatus, a training pavilion, and a two-story 35,000 square-foot education building. These facilities allow for a variety of training courses in both classroom settings and practical situations.
Our department's Training Academy maintains the department's standard of service excellence and strives to achieve the highest criteria of training and education to serve the citizens of Gwinnett County.
Firefighter/Paramedic Trainee
Firefighter/Paramedic Trainee is an entry level (recruit) position assigned to our department's Training Academy. Once offered a position, all candidates must successfully complete our paid in-house training program, which is approximately 22 weeks long, and prepares recruits for a demanding, yet fulfilling career in the fire service. Our highly specialized training consists of comprehensive classroom and practical instruction on emergency medical care, firefighting methods and operations, community risk reduction practices, public relations, physical fitness, and associated topics.
Recruit classes take place Monday through Friday from 0700-1600. Our program starts with fire training focusing on firefighting skills, methods, knowledge, and physical fitness. This includes strength and endurance workouts while building camaraderie through challenging skills sets and drills. After completing the fire training portion of the program, students are trained to the EMT Basic level with clinical rotations on Gwinnett County Med Units and hospital rotations. The EMT class concludes with students taking the National Registry EMT Exams. Student recruits are evaluated daily and must successfully complete all fire and medical training elements in order to graduate from the program.
Upon completion of the Training Academy training, recruits are transferred into the field and work a 24-hour on/48-hour off schedule and are assigned to one of three (A, B, or C) shifts. Firefighters report to work at 0700 the day of their shift and continue working until 0700 the following morning. At the beginning or during their shift, a firefighter is required to check all personal protective equipment, check and clean all apparatus and assigned equipment, clean and maintain the station, attend and participate in all training and public relations events, and participate in other activities all the while being ready to respond to emergencies throughout the shift.
To succeed, recruits need to work hard and be passionate about serving their community.