CAAHEP
CAAHEP-Paramedic Accreditation
On September 16, 2011, the Committee on Accreditation of Allied Health Education Programs (CAAHEP) awarded the Gwinnet County Department of Fire and Emergency Services with accreditation for the Emergency Medical Technician-Paramedic Program. CAAHEP is the largest programmatic accreditor in the health sciences field and accredits over 2200 educational programs in 32 health science occupations. The Gwinnett County Department of Fire and Emergency Services' Emergency Medical Technician-Paramedic program was judged by CAAHEP to be in compliance with nationally established standards. The Gwinnett County Department of Fire and Emergency Services is accredited by the Commission on Accreditation of Allied Health Education Programs (
www.caahep.org
) upon the recommendation of the Committee on Accreditation of Educational Programs for the Emergency Medical Services Professions (CoAEMSP).
When an institution or program is accredited, it has demonstrated that they meet the standards set by the organization representing the academic community and professionals. To maintain accreditation the institution or program must undergo a similar review on a regular basis. Typically accreditation reviews are conducted every five years.
In a continued commitment to the citizens of Gwinnett County, the department has worked diligently over the last five years to exceed standards set forth by CAAHEP which resulted in a successful reaccreditation process on July 21, 2016. The next reaccreditation will occur in 2023 and the department is committed to the continuous enhancement of its programs and educational standards.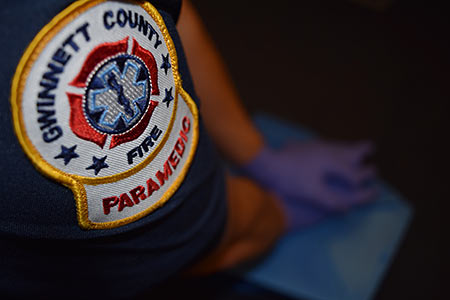 The Gwinnett County Department of Fire and Emergency Services is accredited by the Commission on Accreditation of Allied Health Education Programs (www.caahep.org) upon the recommendation of the Committee on Accreditation of Educational Programs for the Emergency Medical Services Professions (CoAEMSP).

Commission on Accreditation of Allied Health Education Programs
9355 - 113th St. N, #7709
Seminole, FL 33775
727.210.2350
www.coaemsp.org
To contact CoAEMSP:
8301 Lakeview Parkway
Suite 111-312
Rowlett, TX 75088
214.703.8445
FAX 214.703.8992
www.coaemsp.org
Students
2019 – 62 Students
NREMT Written – 91.9%
NREMT Practical – 100%
Retention – 79.5% (78 students started the program with 62 graduating)
Positive Placement – 100%

2018 – 107 Students
NREMT Written – 88%
NREMT Practical – 98.6%
Retention – 92.24% (116 students started the program with 107 graduating)
Positive Placement – 100%
2017 – 51 Students
NREMT Written – 87.33%
NREMT Practical – 100%
Retention – 68.92% (74 students started the program with 51 graduating)
Positive Placement – 100%
2016 – 102 Students
NREMT Written – 100%
NREMT Practical – 100%
Retention – 82.26% (124 students started the program with 102 graduating)
Positive Placement – 100%
2015 – 99 Students
NREMT Written – 100%
NREMT Practical – 99%
Retention – 87.0 % (115 Students started the Program with 99 Graduating)
Positive Placement – 100%