Hiring Process
What It Takes To Join Our Team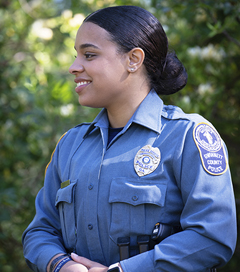 The Gwinnett County Police Department has an extensive process in the selection of the best applicants. We only select the applicants with the highest degree of honesty and integrity to serve the residents and visitors of Gwinnett County.
Due to the background investigation, your application process frequently takes 45 to 90 days to complete. After an application is received, it is screened by the Department of Human Resources prior to being sent to the Police Department's Background Investigations and Recruiting Unit. The Police Department then begins working on your application and scheduling the various steps in Phase I.
Because we are a large and growing agency, we accept and process applications throughout the year. We conduct three basic academies a year, so regardless of when you receive your final job offer or report for your first day of work, you'll at most only be a few months away from beginning the academy.
Phase I
Physical Agility Test:
Obstacle Course
The course measures a total of 870 feet (290 yards/265.2 meters). The course consists of a series of nine interspersed individual tasks, arranged in a continuous format that are viewed as being essential (physical) job-tasks for law enforcement training:
Running
Jumping (low hurdle)
Climbing stairs
Low crawling
Jumping (broad-type)
Climbing a fence (chain-link/four feet)
Climbing through a window
Moving/dragging a weight (150 pounds)
Changing direction on the run

The standard for successful completion of the course will be for the PFA participant, unassisted during the event, to complete the course in no more than two minutes and six seconds (2:06).

A time penalty (two seconds added) for failure to negotiate the low crawl or the ditch jump will be imposed and added to the individual's cumulative score. Failure to negotiate any obstacle and/or to stop continuous motion will NOT constitute a "failure".

PFA participants will be allowed three attempts to successfully negotiate obstacles (stair climb, fence, wall/window). At each failed attempt, the instructor will tell the student to back-up to a designated point in attempt to gain momentum to negotiate the obstacle. Following a third failed attempt at a given obstacle, the student will be instructed to walk around the obstacle and to continue the course in order for the individual's time to be recorded for purposes of the comparison of performance (time) to ability (non-negotiation of obstacle(s)).
The candidate starts the course at a point, indicated in green on the course map.
The candidate runs one and ¾ laps around the perimeter of the course
The first obstacle encountered in the interior consists of two low hurdles, one and a half feet high and four-feet long, placed 13 feet apart
After clearing the hurdles, stairs (five steps up to a 32-inch wide landing, 45 inches above the floor, and five steps down) must be negotiated twice (note that each step has a 7.5 inch rise and tread that is 11-inches wide)
Once the stair event is completed another low hurdle must be cleared; the trainee must then successfully negotiate a low crawl under an obstacle set at 2 ½ feet above the floor
Make a turn and clear a ditch simulation that is six feet in width
After another turn, a chain-link fence (four feet in height) must be climbed
Two additional turns made, and a four-foot high window (opening is 3' wide x 4.5' high) must be successfully entered
The candidate must then drag a 150-pound dead weight a distance of 20 feet
After the weight drag, the candidate exits the course, completes one final lap around the perimeter, and finishes at the point indicated in red on the course map
To learn more about the obstacle course, see the graphic below.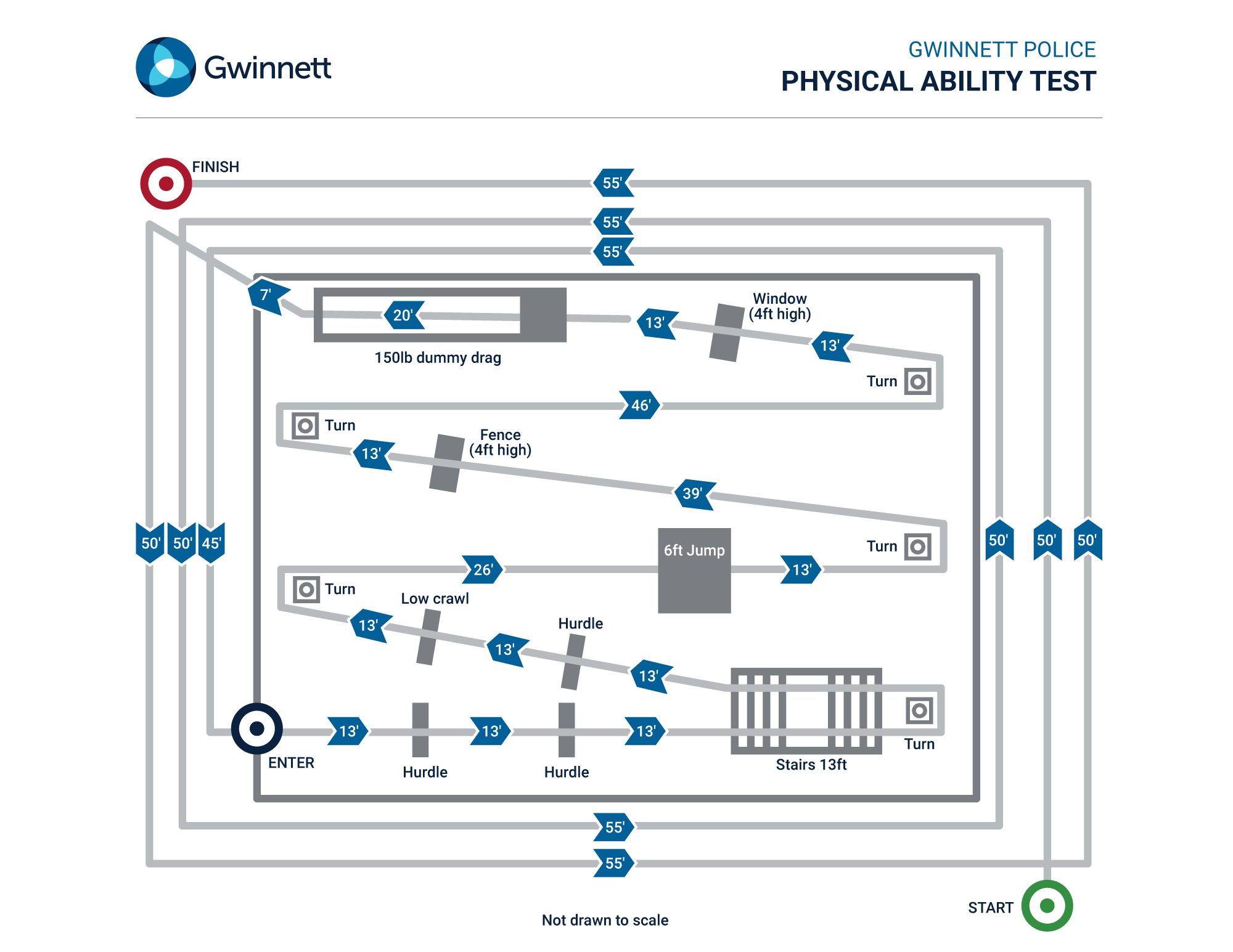 Watch this video to learn more about the Physical Ability Test course
Preliminary Orientation:
This step is to provide the applicant with some basic information about the Police Department. Personal information is also gathered. Some of the information will include, but is not limited to, educational background, employment history, and personal data. During this phase, an applicant will complete the Preliminary Orientation Booklet which requires the submission of detailed work and life history.
Oral Interview:
Applicants who successfully complete the physical fitness assessment are scheduled for an oral interview. This interview is conducted by members of the Department ranging from the ranks of police officer to major.
Once the applicant successfully completes Phase I, they are placed on an applicant register. If the applicant is selected, they are given a conditional job offer. The final job offer is based on the successful completion of Phase II.
Phase I Physical Fitness Standards for Out-of-State Applicants
Physical Fitness Assessment:
The physical fitness assessment is administered to all out-of-state police officer applicants to predict the physiological readiness to perform under emergency conditions.
The assessment consists of three parts:


Anaerobic Power (Sprinting ability)
Applicant begins by lining up at a predetermined starting area. After hearing the starting indicator, a maximum running effort will be given for 300 meters (984 feet). This is accomplished regardless of weather conditions. Have water available for after the test.


Muscular Endurance (Core body)
This is measured by the total number of correct sit-ups achieved in one minute. The applicant starts by lying on their back, knees bent, heels flat on the floor, with their hands behind their head with laced fingers. Another applicant or employee will hold the feet down firmly. On the command "Go" the applicant will raise their body upright bringing their elbows to their knees, and then return until their shoulder blades touch the floor. Any resting should be done in the up position. Breathing should be as normal as possible. The neck remains in the neutral position. Do not pull on the head or neck.

Muscular Endurance (Upper body)
Applicant begins the push-up by assuming the front-leaning rest position with hands placed just outside shoulder width. The back, buttocks, and legs must be straight from head to heels. Applicant is looking straight-ahead. Begin the push-up by bending their elbows and lowering their body until the upper arms are parallel to the floor. This is one repetition. The applicant may only stop to rest in the upright push-up position. If their knees or chest touch the floor, time will be stopped, and the applicant will be given credit for the last correct push up completed.
Applicants must meet the minimum standard of 15 points with a lease zero points in each event to remain in consideration of police officer 1 and senior police officer positions.

To learn more about the physical fitness assessment and scoring, see the chart below.
Event

0 Points

1 Point

2 Points

3 Points

4 Points

5 Points

6 Points

7 Points

8 Points

9 Points

10 Points

Push-ups
(1 minute timed)

4-5

6-7

8-9

10-11

12-13

14-15

16-17

18-19

20-21

22-23

24+

Sit-ups
(1 minute timed)

19-20

21-22

23-24

25-26

27-28

29-30

31-32

33-34

35-36

37-38

39+

300-meter run
(timed in seconds)

75-76

73-74

71-72

69-70

67-68

65-66

63-64

61-62

60

59

<58
Phase II
Polygraph examination
Physical examination/drug screening
Psychological testing
Georgia P.O.S.T. required testing (SAT, ACT, ASSET, CPE, or Accuplacer. Those that have already completed one or more of these tests with a satisfactory score may be exempt from additional testing)

During the background investigation process, any applicant can be rejected for failing to meet the hiring standards. Once an applicant is rejected, they are not eligible to reapply for a minimum of one year. Any applicant rejected will receive a letter stating the reason for the rejection and the specific time frame required before reapplication can be made.
Congratulations!
Once you have successfully completed Phase I and Phase II, you will be offered a final job offer. And you don't have to wait for an academy to start. Employees that are hired prior to an academy start date are temporarily assigned to other positions within the Police Department, so we onboard new recruit officers every two weeks.