Hiring Process
What It Takes To Join Our Team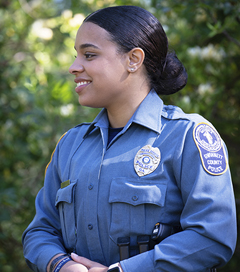 The Gwinnett County Police Department has an extensive process in the selection of the best applicants. We only select the applicants with the highest degree of honesty and integrity to serve the residents and visitors of Gwinnett County.
Due to the background investigation, your application process frequently takes 45 to 90 days to complete. After an application is received, it is screened by the Department of Human Resources prior to being sent to the Police Department's Background Investigations and Recruiting Unit. The Police Department then begin working on your application and scheduling the various steps in Phase I.
Because we are a large and growing agency, we accept and process applications throughout the year. We conduct three basic academies a year, so regardless of when you receive your final job offer or report for your first day of work, you'll at most only be a few months away from beginning the academy.
Phase I
Physical Fitness Assessment:
Applicants will be performing the following exercises:
Maximum Push-Ups in 60 seconds
Maximum Sit-Ups in 60 seconds
300 Meter Run

A minimum score of 0 will be required on each exercise. Applicants must obtain a total score of 15 points based on the following scoring criteria:
Event
Fail
0 points
1 points
2 points
3 points
4 points
5 points
6 points
7 points
8 points
9 points
10 points
Push-ups
1 min. timed
≤ 3

4-5

6-7

8-9

10-11

12-13

14-15

16-17

18-19

20-21

22-23

24+

Sit-ups
1 min. timed
≤ 18

19-20

21-22

23-24

25-26

27-28

29-30

31-32

33-34

35-36

37-38

39+

300-Meter Run
(seconds)
≥ 77

75-76

73-74

71-72

69-70

67-68

65-66

63-64

61-62

60

59

<58

Preliminary Orientation:
This step is to provide the applicant with some basic information about the Police Department. Personal information is also gathered. Some of the information will include, but is not limited to, educational background, employment history, and personal data. During this phase, an applicant will complete the Preliminary Orientation Booklet which requires the submission of detailed work and life history.
Oral Interview:
Applicants who successfully complete the physical fitness assessment are scheduled for an oral interview. This interview is conducted by members of the Department ranging from the ranks of police officer to major.
Once the applicant successfully completes Phase I, they are placed on an applicant register. If the applicant is selected, they are given a conditional job offer. The final job offer is based on the successful completion of Phase II.
Phase II
Polygraph examination
Physical examination/drug screening
Psychological testing
Georgia P.O.S.T. required testing (SAT, ACT, ASSET, CPE, or Accuplacer. Those that have already completed one or more of these tests with a satisfactory score may be exempt from additional testing)

During the background investigation process, any applicant can be rejected for failing to meet the hiring standards. Once an applicant is rejected, they are not eligible to reapply for a minimum of one year. Any applicant rejected will receive a letter stating the reason for the rejection and the specific time frame required before reapplication can be made.
Congratulations!
Once you have successfully completed Phase I and Phase II, you will be offered a final job offer. And you don't have to wait for an academy to start. Employees that are hired prior to an academy start date are temporarily assigned to other positions within the Police Department, so we onboard new recruit officers every two weeks.