Career from Here
Save the date!

Career From Here Hiring Event
Friday, January 19
9:00am to 3:00pm
Gas South Convention Center
6400 Sugarloaf Parkway
Duluth, GA
Stay tuned for more information here and on social media @GwinnettGov in the coming weeks.
Career From Here: Countywide Hiring Event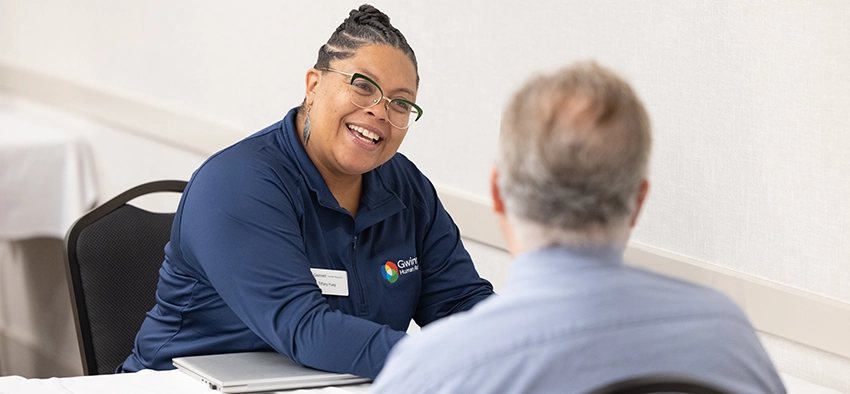 Have an impactful career with Gwinnett!

Gwinnett County Government offers impactful career opportunities in a variety of fields.Attend the Career From Here Hiring Event on Friday, January 19 from 9:00am to 3:00pm at the Gas South Convention Center, located at 6400 Sugarloaf Parkway in Duluth.

Discover opportunities in the following fields:


Accounting and Finance
Administration
Animal Control
Automotive
Building, Grounds Cleaning, and Maintenance
Clerical and Data Entry
Code Enforcement
Custodial
Customer Service
E911
Education
Engineering
Facility Operations
Food Services
Grounds and Landscaping
Human Resources
Information Technology
Legal
Maintenance
Marketing, Communications, and Branding
Outreach
Parks and Recreation
Public Safety
Public Works
Utilities
Water Agency

Gwinnett offers competitive pay, benefits, paid training, educational incentives for certain positions, tuition reimbursement, career advancement, and so much more!
For certain positions, several County departments will interview candidates throughout the event with the goal of extending conditional job offers.
Apply in advance to save time
Check
GwinnettCountyJobs.com
to see the list of jobs eligible for onsite interviews. Applying in advance is not required and walk-ins are welcome. If you are interested in a position that is not eligible for onsite interviews, you are welcome to attend the job fair to meet with department representatives.
Preparing for the hiring event
Career From Here gives job candidates the unique opportunity to meet Gwinnett County Government employees face to face, discover the vast number of jobs available, and in some cases, receive a conditional job offer the same day.
Follow these recommendations to prepare for the hiring event:
Update your resume.
Review your resume to make sure it's relevant to the positions available at the hiring event.
Make changes to highlight how you have the required skillset.
Proofread to correct any mistakes.
Practice your answers.
Practice your elevator pitch! How would you share personal and professional background in one minute or less?
Review examples of interview questions you may be asked and questions you can ask.
Be prepared with examples of your work, if applicable to the job.
Tie your answers back to your skills and accomplishments.
Plan your interview attire the night before.
Bring copies of your resume, a notebook, and a pen.
Bring at least five copies of your resume to make the most of your experience.