PROMOTION & RECRUIT GRADUATION CEREMONY
(Lawrenceville, Ga., Feb. 25, 2020) – The Gwinnett County Department of Fire and Emergency Services proudly celebrated the hard work of 43 individuals last week. On Thursday, February 20, 2020, families, friends and loved ones streamed into the auditorium of the Gwinnett Justice and Administration Center in Lawrenceville to celebrate a momentous night of firsts. Smiles, handshakes and hugs were plentiful as eight Driver Engineers, eight Lieutenants and four Captains were promoted. Two tenured firefighters took a big step in their careers as well when they celebrated the completion of paramedic school. The 2018-03 Recruit Class was not to be overlooked during this joyful event. They were finally able to shed the label of "recruit" and were welcomed into the family as Firefighters/Paramedics.
Commission Chairman, Charlotte J. Nash, reminded everyone of how endeared she is to public safety and encouraged the newly promoted firefighters to uphold the standard that has been placed in front of them. County Administrator, Glenn Stephens, drew attention to the uniqueness of the combined ceremony. He felt It was important for the new firefighters to see the opportunities and career path that lay in front of them. By witnessing the promotions, tangible goals could be set because these were "homegrown" talent. Deputy County Administrator Phil Hoskins was also in attendance and applauded the achievements of the group. With his Command Staff looking on in full support, Fire Chief Russell Knick took the time to give examples of activities that some of the newly promoted individuals had participated in that helped set them apart to show they were ready to take on more responsibility in the organization.

Below is a list of personnel that were promoted. Some have already been in the position for a period of time but were officially recognized during the ceremony.

DRIVER ENGINEERS
Luke Cown Chris McLendon
Reid Cown Mike Newport
Matt Knebel Robert B. Parr
Jeb Krause Sam Yoder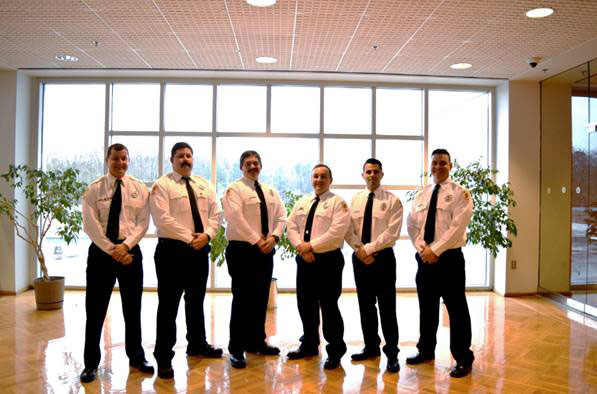 LIEUTENANTS
Aaron Blackwell Wayne Lumpkin
Grant Carter Ben Pierce
Kyle Doster Andrew Roberts
Ben Hulsey Donald Strother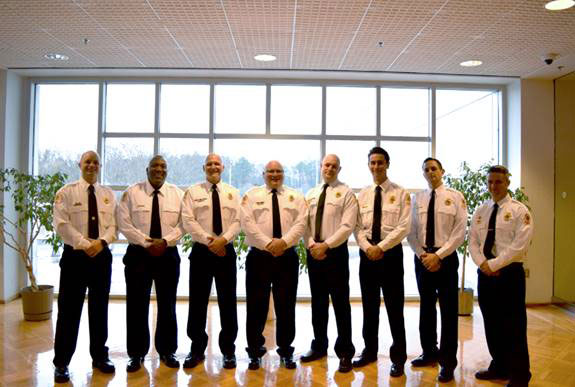 CAPTAINS
Chad Bird Craig Tisdale
Dan Staton Scott Wooten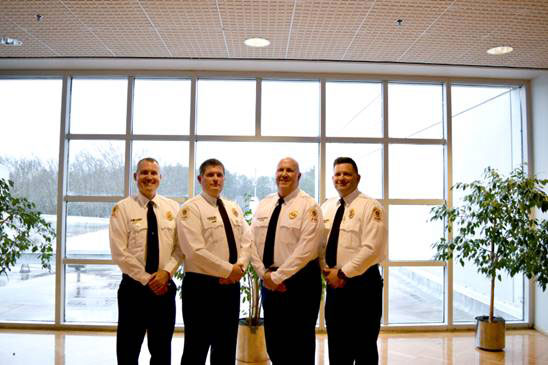 The new Firefighters/Paramedics invested 16-months into our mentally and physically demanding program. Thousands of hours were spent learning about paramedicine and basic firefighting skills. Being able to shed the label of recruit was earned and the 10 certifications they acquired along their journey allows them to be recognized as Firefighter/Paramedics.
The following night, families of the new firefighters/paramedics were invited to the Training Academy to enjoy refreshments and get a glimpse into what the life of a recruit looked like firsthand. During the event, Training Academy instructors presented individual awards based on performance throughout the training program. The Academic and Star of Life Awards went to Tyler Culp, Core Values Award went to Luke Foshee, Top Rung Award went to Logan Holt and the Physical Fitness Award went to Travis Nyberg.
Recruit Class 2018-03
Ryan Bingham Roberto LaGrana Acosta
Robert Button Blayr Lake
Travis Button Cody Mangrum
Tyler Culp Corey Meier
Grant Dickinson Travis Nyberg
Christine Edwards Marlee Staton
Sean Flemming Reggie Thompson
Luke Foshee Krista Vasquez
Hunter Hauck David P. Williams
Logan Holt Anna Woolridge
Jeremy Johns