UPDATE: Woman Missing, Wanted Care-Taker, More Victims
Update #1, 10/30/2019: Linda Kimble is still missing. The day after the original Media Release was published on October 11, officers assigned to the South Precinct were dispatched to another call involving Kishia Mitchell. A 26-year old man walked into the Wells Fargo bank on Rockbridge Road in unincorporated Stone Mountain stating that he had not seen his care-taker Kishia Mitchell for the past two days nor had he eaten.
Officers responded to the Wells Fargo and then re-located back to his home at 2966 Deshong Drive in unincorporated Stone Mountain. Officers located nine adults with varying levels of special needs. There was no care-taker present, and officers learned that the residents had not eaten or had access to medications in several days.
None of the residents were Linda Kimble.
Of the nine residents, eight were relocated using Temporary Emergency Relocation Funds (TERF). The ninth resident was offered the choice to relocate, but he declined.
As a result of this new investigation, Kishia Mitchell has been charged with several new crimes to include two counts of Exploitation of a Disabled or Elder Person (OCGA 16-5-102) and two counts of Unlicensed Personal Care Home (OCGA 31-7-12.1).
At this time, detectives are still seeking the whereabouts of both Linda Kimble and Kishia Mitchell. It is imperative that Linda is located so we can make sure her physical and medical needs are being met.
We encourage tipsters to contact Crime Stoppers at 404-577-8477.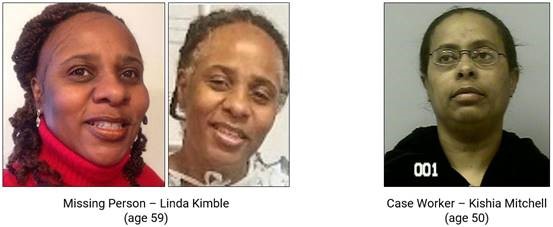 Original, 10/11/2019: (Snellville, Georgia) After leaving her mother in the care of an Auxilium Care healthcare worker, a Culloden (GA) woman is worried after repeated attempts to see her mother are going unanswered.
Linda Kimble (age 59) was discharged from Eastside Emory Hospital in August. She was placed in to the care of Kishia Mitchell for long-term medical placement. Since the transfer, Kishia has been refusing to let the complainant speak with or visit her mother. The last known location for the home is now a vacant property.
At this time, we don't have any evidence to suggest Linda is in danger, but we would like to conduct a welfare check on her to make sure her needs are being met. Kishia Mitchell has an active warrant for Probation Violation. She has not been charged with any crimes in reference to this case. Linda is listed on GCIC as a missing person.
Linda Kimble is a black female who is 59 years old. She has black hair and brown eyes and is approximately 5 feet 6 inches and weighs 170 lbs.
If anyone has any information to share in this case, please contact GCPD detectives at 770-513-5300. To remain anonymous, tipsters should contact Crime Stoppers at 404-577-TIPS (8477) or visit www.stopcrimeATL.com. Crime Stoppers tipsters can receive a cash reward for information leading to an arrest and indictment in this case. Case Number: 19-091913