McDaniel Farm Park
McDaniel Farm Park
| | |
| --- | --- |
| Historic & Program Info: | 770.814.4920 |
| Pavilion & Wedding Rentals: | 770.904.3500 |
| Park & Trails Info: | 770.822.8840 |
Two entrances to this 134 acre park:

Historic Entrance:
3251 McDaniel Road, Duluth 30096

Park Hours: Sunrise until sunset unless otherwise posted
Office Hours: Monday – Sunday, 10:00am – 4:00pm
This former cotton farm is relatively unchanged since its drawing in the 1820 land lottery. In the early 1900s, it was a thriving farm. In later years the farm housed sharecroppers and experienced the struggles of the Great Depression and the boll weevil. This story comes to life in the property's original barn, well house, chicken coup, blacksmith shed and restored tenant farmer house.
Amenities:
McDaniel Farm is restored to depict a typical 1930's farm in Gwinnett County
Furnished farmhouse
Barn
Blacksmith shed
Carriage house
Tenant house
Tours
Pavilion
3-miles of paved and non paved trails
Grill
Restrooms
---
Park Entrance:

3020 McDaniel Road, Duluth 30096


Park Hours:
Sunrise until sunset unless otherwise posted
Amenities:
Farm themed playground
Dog park area
Rustic Pavilion
Paved and non paved trails with connectivity to the Historic side of the park
Grill
Restrooms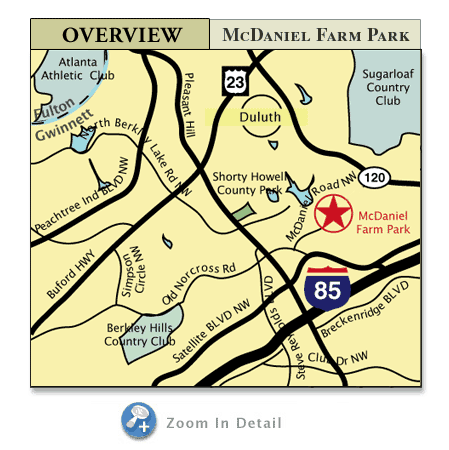 McDaniel Farm Park Pictures
Click on the thumbnails to view pictures of McDaniel Farm Park.