Employee Support and Training
Employee Support and Training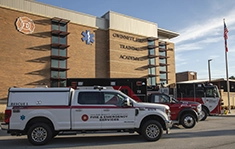 The Employee Support and Training Division concentrates on supporting the department's vision, mission, and values by focusing internally on employees and reaching outward to the community as well. The Division's four areas coordinate a wide variety of functions.
The Employment/HR area oversees all functions related to employment, and associated issues. In addition, they oversee personnel actions, promotions, transfers, demotions, employee records, statistical reports, and all associated official documentation. They are also responsible for the Human Resources Data Center which hosts numerous statistical reports.
The Training Academy oversees the training and development of employees, beginning when personnel enter recruit school and continuing through annual training, paramedic school, career path and leadership development. This area coordinates recruit graduations for every class. All entry level personnel are trained as Firefighter II/ EMT's through our Training Academy's programs, with the opportunity to return for Paramedic training at a later date. For more information, please visit the Training Academy portion of the website.
The Risk Management area is responsible for tracking and analyzing the health and safety of the department. This section includes the monitoring and facilitating of the infection control and health and wellness for the department. The section monitors trends to appropriately address safety and health needs throughout the organization. By providing new and relevant information to the department Health & Safety Committee, assist in the prevention of accidents and injuries. Risk Management processes all phases of risk management claims for the department. Furthermore, the Health and Safety Committee also reviews new ideas and suggestions through a Project and Initiative Process that is offered for all employees to make suggestions on new processes, equipment, training, and changes or additions to guidelines. These ideas are reviewed by the committee and if approved presented to the Chief's Office for approval to move forward as a Project Charter, this will ensure it is investigated further by the appropriate stakeholders before final approval by the Fire Chief.