Property Information
Board sets 2021 millage rates
On July 20, the Gwinnett Board of Commissioners voted to hold unincorporated Gwinnett's property tax rate for 2021 at 14.71 mills, the same rate as 2020.
"Gwinnett County is fortunate to be in a very good position financially," said Chairwoman Nicole Hendrickson. "It's important that we continue providing the excellent services that Gwinnett is known for. Our police and fire personnel continue to help keep us safe, our award-winning parks give us a fun place to relax and exercise, we're doing innovative things in transportation, and on and on. At the same time, we're still able to expand services and improve public facilities to be more equitable and to try to enhance the quality of life for everyone without increasing the millage rate."
Property taxes are based on millage rates set by county government, the schools, and cities. One mill equals a dollar tax per thousand dollars of assessed property value. Assessed value is 40 percent of fair market value. The Gwinnett Tax Assessor calculates the total value of all property in the county, called the tax digest, by conducting annual updates of residential and commercial property.
Financial Services Director Buffy Alexzulian said most homeowners won't see the County government portion of their taxes change because of the Value Offset Exemption, which holds the assessed value of a property constant for the County government tax portion of their bill, even if there is an increase in property value.
The 2021 General Fund millage rate remains at 6.95 mills. Property taxes for special service districts and countywide levies for recreation and economic development also are unchanged from last year. Millage rates for service districts in Gwinnett are based on property location and county services provided, such as police, fire, and emergency medical services.
The approval of the millage rate paves the way for the Tax Commissioner's Office to mail property tax bills in August. Payments will be due in October. Property owners or mortgage lenders can make payments by mail, online, at the main tax office in person, or by using one of the special drop boxes located at tax and tag offices.
Property owners can also visit the County's website to see the value they receive in county services plus an estimate of applicable county, schools and city taxes billed by the tax commissioner. A pie chart shows how the County allocates its portion. Click here to explore the Where Your Property Taxes Go tool.
Watch this video to learn more about how your property taxes are calculated.
2021 tax digest and 5-year history
The following tables show the current year's estimated tax digest along with the history of the tax digest and levy for the past five years: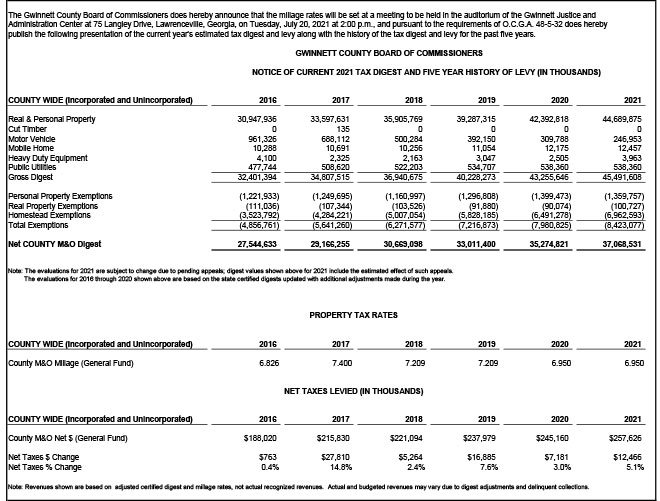 Click here to view a printable version.
Property taxes
Property taxes represent an important source of revenue for Gwinnett County. More than one-third (34.1 percent) of the total revenue for all operating funds and nearly three-quarters (71.5 percent) of the revenues for the tax-related funds are derived from property taxes. The amount of property tax revenue is based on the size of the tax digest and the millage rate.

The tax digest is the total value of all property subject to taxation as determined by the Tax Assessor. Property in Georgia is assessed at 40 percent of the fair market value, unless otherwise specified by law. The economy, as well as state and local policies, impact the size of the net digest.

Gwinnett enjoyed a growing digest for many years. As a result, county government was able to roll back the millage rate, provide property tax relief, and still have increasing revenues to meet community needs. The digest condition looked good as it had continued to show increases year after year. But by 2008, this year-over-year digest growth slowed down, and by 2009, the digest had lost value. This loss in value was the result of housing and economic conditions (namely, increased foreclosures, decreased construction, and the freeze in assessments). The last year of tax digest decline was 2013; since that time, the digest has shown a modest recovery as home prices are beginning to recover and construction is increasing.

The amount of property tax revenue is also based on the tax rate (or millage rate), which is set annually by the Board of Commissioners. The Board of Education and the governing authority of municipalities also establish tax rates based on the property values. A tax rate of one mill represents a tax liability of $1 per $1,000 of assessed value. These rates are the amount required to fund planned expenditures divided by the net digest.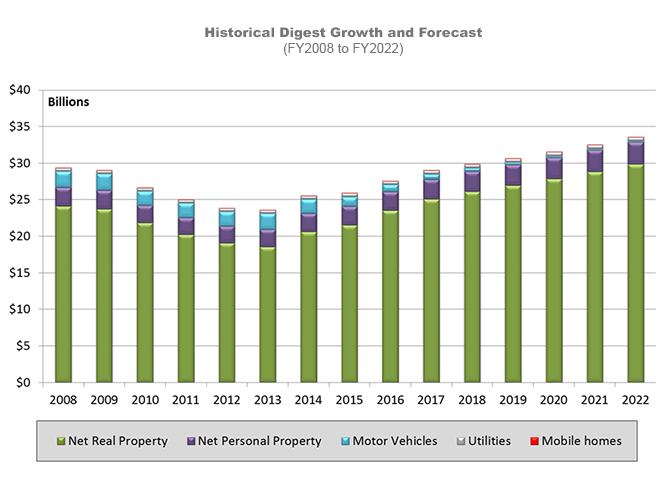 How property tax is calculated
The average fair market value for a home in Gwinnett County was $200,000 in 2017. Fair market value is the amount a knowledgeable buyer would pay for the property and a willing seller would accept for the property at an arm's length, bona fide sale. Assessed value is 40 percent of the fair market value.

Formula to calculate property tax for a home with a fair market value of $200,000:
Annual Property Tax = [(40% x Fair Market Value) - Exemptions] x Millage Rate
Annual Property Tax = [(.40 x $200,000 ) - Exemptions] x Millage Rate
Annual Property Tax = $80,000 - Exemptions x Millage Rate
For more information
To learn more about your property taxes, visit the Gwinnett County
Tax Commissioner's Office
webpage.
For information on commercial and residential property appeals, returns, and unclaimed property, select the links below to the Tax Assessor's Office.
Property owners can search for view parcel information using the County's GIS data browser.