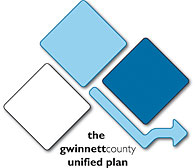 The Gwinnett County 2030 Unified Plan is the central document and integrates two traditionally separate plans: the Comprehensive Plan and the Consolidated Plan. Typically the Comprehensive Plan, required by the Georgia Department of Community Affairs, focuses on land use and development issues while the Consolidated Plan, required by the U.S. Department of Housing and Urban Development, addresses community development, housing, and homeless needs. Both of these plans rely on the same basic data and both establish long-range policy direction for the County.
The Unified Plan will guide future land use and community development decisions in the County through 2030 and address housing and homeless needs for the period 2008-2012. This single document will simultaneously provide the basis for capital investment and land use decisions while allowing the County to continue to receive federal funds from the United States Department of Housing and Urban Development.
The Comprehensive Transportation Plan, while coordinated with the Unified Plan, will be a stand-alone document and will focus on the transportation network needed to serve current and future development. The Comprehensive Transportation Plan becomes the reference providing for the county's transportation funding priorities. A summary of the Comprehensive Transportation Plan will become the "Transportation Element" of the Comprehensive Plan.