Events and Workshops
Upcoming Events

Yellow River Trash Bash

Date: Saturday, September 14
Time: 9:00am - 1:00pm
Location: Yellow River Park, 3232 Juhan Rd SW, Stone Mountain, 30087
Join us for the 4th annual Yellow River Trash Bash! Hosted by the Yellow River Water Trail, this is an initiative to protect the river by removing litter from throughout the watershed. Volunteers will meet at the park and then divide into groups to cleanup several sites within the area. Lunch and t-shirts will be provided after all of our hard work is completed!
To learn more or to register for this event,
click here
.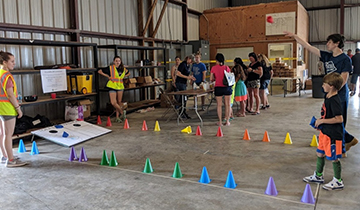 Yellow River 'Trick or Treatment' Fall Festival

Date: Saturday, October 26
Time: 11:00am - 3:00pm
Location: Yellow River Water Reclamation Facility, 858 Tom Smith Rd, Lilburn, 30047
Please join us at the 2019 Yellow River Trick or Treatment Fall Festival! This free, family focused event will have something for everyone, including crafts, games, giveaways, touch-a-truck, festival activities, and fairground food. You will also have the opportunity to tour the Yellow River Water Reclamation Facility. We hope to see you there!


Free Public Workshops
Department of Water Resources (DWR) workshops are a great chance to learn how to conserve and protect our shared water resources, get tips on making your home and yard more water friendly, and discover how DWR provides superior water services! Water Conservation Workshop attendees receive water conservation kits, and Water Quality Workshop attendees may qualify for a 5 percent credit on their Stormwater Utility Fee.
These free programs are offered year-round.Use the 2019 Water Workshops Calendar to view this year's schedule. Workshop details are also published in the Gwinnett County Connection newsletter, included with your monthly water bill.

Due to high demand, pre-registration is recommended for DWR Workshops. There are three simple ways to register:
Click here for online registration.
Click here to send an email. Please include your name, address, and telephone number.
Call 678.376.7193. Choose option 5. If you leave a voicemail, please include your name, address, and phone number.