Events and Workshops
Upcoming Events

Household Hazardous Collection Day

Date: Saturday, July 20
Time: 8:00am - Noon
Location: Gwinnett County Fairgrounds, located at 2405 Sugarloaf Pkwy in Lawrenceville
Summertime is here! So join us for the 2nd annual Household Hazardous Waste Collection Day! Gwinnett County residents are allowed to bring up to five "containers" each of household hazardous waste for FREE! So beat the heat and bring your HHW items down to the Gwinnett County Fairgrounds.
For a list of acceptable items and quantity limits,
click here
.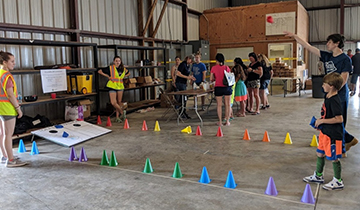 DWR is happy to offer two festivals each year, each one offering an insider's look at the award-winning facilities that help manage our water every day. Our next festival will be in October, so look for more details to be posted soon!




Free Public Workshops
Department of Water Resources (DWR) workshops are a great chance to learn how to conserve and protect our shared water resources, get tips on making your home and yard more water friendly, and discover how DWR provides superior water services! Water Conservation Workshop attendees receive water conservation kits, and Water Quality Workshop attendees may qualify for a 5 percent credit on their Stormwater Utility Fee.
These free programs are offered year-round.Use the 2019 Water Workshops Calendar to view this year's schedule. Workshop details are also published in the Gwinnett County Connection newsletter, included with your monthly water bill.

Due to high demand, pre-registration is recommended for DWR Workshops. There are three simple ways to register:
Click here for online registration.
Click here to send an email. Please include your name, address, and telephone number.
Call 678.376.7193. Choose option 5. If you leave a voicemail, please include your name, address, and phone number.