Virtual Habitat Survey
Jones Bridge Park Stream Habitat Survey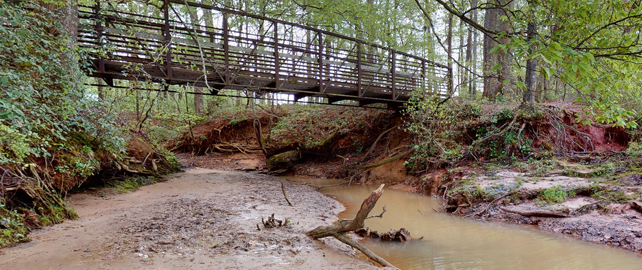 Welcome to the Jones Bridge Park Stream Habitat Survey activity! This is a virtual tour of a small tributary to the Chattahoochee River that has seen better days.

In order to understand how human activities impact habitat for wildlife, the Georgia Adopt-a-Stream Habitat Survey will allow you to score this stream to determine its status. While it is always best to get outside and explore nature, this activity can be done in the classroom or at home!

More information can be found at the Georgia Adopt-a-Stream website.

How to Complete the Survey


After clicking "Start the Tour" you will see a view of the entire stream. From that image, the view will zoom to the beginning of the tour.
Welcome to Jones Bridge Park Stream! Use the arrows on the keyboard to look around. You can also use the mouse to move.
Hover over the blue targets to get information pertinent to certain scoring criteria on the Stream Habitat Survey.



Download the survey form.
Score the Stream Habitat Survey in each category after reviewing the entire stream reach.


To complete numbers 8, 9, and 10 on the survey, you will need to "jump out of the channel" by using the "Floor Plan" button.



At the bottom left of the screen, click on the "Play" button. This will play a highlight reel of views from the left and right banks. At any point, you can click the screen, stop the highlight reel and look around, then click "Play" again to finish.




Total all of your scores to reveal the Stream Habitat Score and the result of this survey!



Pro Tips!
You can use the Floor Plan tool to skip around the channel.



Use the Measure Tool to estimate channel depth or distance between points.