Research Projects
Research Projects
Gwinnett's recognition as a leader in the water sector has grown, and so have the opportunities and requests for partnerships and participation in research projects as well as technology evaluation/development endeavors. These opportunities allow our staff to expand their knowledge base and apply this expertise in current operations as well as in decision making and planning for future infrastructure expansions and modifications.
Gwinnett County Water Resources has been at the forefront of innovation for decades through successful implementation of ideas and technologies that fulfill our mission to provide superior water service at an excellent value. These achievements include the addition of ozone and biological filtration at water production in the late 1990s, the construction of the F. Wayne Hill Water Resources Center in the 2000s to produce high quality water to return to the drinking water supply, and more recent additions to recover both energy and nutrients from the wastewater.
Research informs our current processes and provides a forward-thinking perspective that will allow us to proactively address challenges as water becomes an increasingly valuable resource.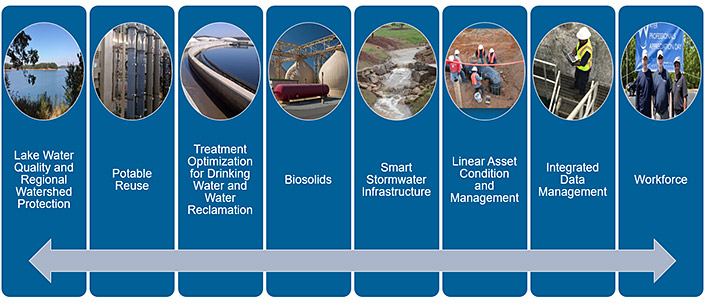 Our research projects generally fall into three areas of focus:
Monitoring and protecting source water
Optimizing treatment facilities, processes, and distribution assets
Implementing stormwater and green infrastructure

Together, findings from these projects can be applied to protect the environment, save our customers money, and improve system quality and reliability.
For more information on any of the projects you see here or our research program, contact us.
Highlights From 2019

In calendar year 2019, there were THIRTY active applied research projects. One third of these were directed and led by DWR. Some projects were conducted entirely by DWR staff while others involved leading a team with members from other utilities, universities and engineering consultants.


Most of our applied research focused on drinking water, wastewater and reuse processes, but there were projects that reflect every division within the department. Here's a breakdown of projects by area (although some projects cover more than one area):
9 drinking water
10 water reclamation
7 potable reuse
2 stormwater
3 water distribution system
3 wastewater collection system
2 perfluorinated compounds
2 lake studies
2 utility wide
Monitoring and Protecting Source Water
Septic System Impact Study for Lake Lanier
DWR is working with the Georgia Institute of Technology, the University of Georgia, and Cornell University to study the impact of septic systems on Lake Lanier. This multi-year project is determining the historical and current impacts of septic systems and urban runoff on lake water quality. The goal is to provide critical information about the movement and transformation of nutrients, nitrogen and phosphorus, from septic systems at lakeside homes as well as quantify the contribution from stormwater run off into the lake. The goal is to provide environmental lakeshore management recommendations for Gwinnett and other counties that will be critical to ensuring the long term health of Lake Lanier.
The project involves groundwater monitoring at seven home sites and one control site and surface runoff monitoring at five home sites and one control site. In addition, extensive lake water quality monitoring and sampling occurs within two residential lake coves and 2 control coves without homes nearby. All wells and check dams were installed by the end of 2019 to allow full monitoring to take place during 2020. In 2019, scientists collected about 180 samples each month in order to conduct 1,100 analytical tests each month and this number will double for 2020. This effort also involves close coordination with homeowners as well as the Army Corps of Engineers who manage Lake Lanier.
Key Partners: Georgia Tech, UGA, and Cornell University
Expected End Date: 2021
Optimizing Facilities, Processes, and Assets

One notable project award in 2019 is called Assessing the Impacts of Backwash Practice on Biofiltration Operation and Performance. The objective of this work is to evaluate various backwashing strategies to minimize treatment cost and optimize drinking water quality. This project was selected for WRF funding through a competitive, two-stage proposal process. The total cost of this applied research project is $200,000, but Gwinnett will receive over $68,000 in cash and in-kind services to complete the project ($50,000 cash from WRF, remainder in-kind services from CDM Smith, LuminUltra and Southern Nevada Water Authority). Results from this project could save the County over $40,000 a year in treatment costs if the 25-minute backwashing time can be reduced by just 5 minutes.

Another success story involves the Global City Teams Challenge project that started in 2016, but has continued to be a great test bed for reducing real water losses in the distribution system through pressure management. The project involves a small community in Gwinnett County with 504 homes where a master flow and pressure meter was installed and each home was equipped with a smart water meter able to provide flow data every 15 minutes. Reducing pressure to the area resulted in 6% lower real losses and lowered customer consumption without impacting service. Another outcome was the ability to detect when a small leak began instead of waiting for visible signs of water at ground level which can take several months. One split in a 2-inch line serving homes in one cul-de-sac was leaking about 10,000 gallons a day.


Tertiary Treatment Pilot
There is almost always a better way to do things in the future, thanks to continuous advancements in science and technology. At F. Wayne Hill WRC, we are building and testing a Tertiary Treatment Pilot that will include chemical treatment for phosphorous removal, as well as membrane filtration that mimics what we have in full-scale. The goal of this study is to be able to test and optimize various chemicals used for both coagulation and membrane cleaning and to identify the best type of membranes for our application.
Key Partners: DRW, Georgia Tech, Jacobs Engineering
Expected End Date: 2021

FWH Optimization – Biological Phosphorous Removal
In early 2016, F. Wayne Hill WRC was experiencing frequent upsets that affected nutrient removal, mainly phosphorous. A project undertaken by DWR to optimize biological treatment entailed a comprehensive evaluation of both main and side stream processes and optimizing recycle loads going back to head of the plant.
In the event there is an upset in some other part of the plant, even when not directly associated with biological treatment, it could potentially have a significant effect on the bacteria, leading to increased phosphorous leaving the reactors. The project was successfully completed in 2017 and the recommendations from the study were implemented in full-scale. Ever since, the plant has faced little to no upsets.
Key Partners: DWR, F. Wayne Hill plant staff, Hazen & Sawyer
End Date: 2017, with published results below


Ram Mohan, G., Lan, JC., Lynch, M., Latimer, R., and Pitt, P. Nutrient Recovery performance and the Optimization of Biological Phosphorus Removal at the F. Wayne Hill Water Resources Center. WEF Nutrient Removal and Recovery Conference, 2018.
Garmon, J., Lynch, M., Ram Mohan, G., Lan, JC., Latimer, R., and Pitt, P. Optimization of Biological Phosphorus Removal at the F. Wayne Hill Water Resources Center. Georgia Association of Water Professionals Annual Conference, 2018.
Stormwater and Green Infrastructure
No projects listed at this time.