Stormwater
Stormwater

Stormwater is the water that originates from rain and other precipitation. Stormwater can soak into the soil, be held on the surface and evaporate, or runoff into lakes, streams and other local waterbodies. Stormwater runoff collects in lakes and streams by flowing over land, or by moving through a system of stormwater pipes.
In communities with impervious surfaces that do not allow the stormwater runoff to soak into the ground, stormwater management is important to reduce flooding, and keep waterbodies from being damaged by pollutants.
Unlike wastewater , stormwater is not treated at facilities and instead travels directly to local waterbodies. This means anything that stormwater picks up—like trash or pollutants—will go directly into our lakes and streams.
As a result of decades of growth and development, bodies of water in the county have been affected by flooding and erosion, land development, road construction, littering, landscaping, lawn care, and other activities.
How You Can Help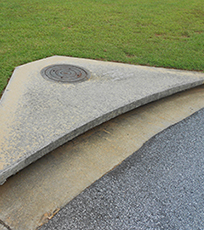 Did you know that grass clippings and pet waste shouldn't be put down a stormdrain? Learn More
At the Department of Water Resources (DWR), we manage both stormwater quantity and quality with a combination of operational and engineering practices.
Protecting Water Quality
Protecting water quality is important for maintaining the health of the local ecosystem and the community. Anything other than rainwater that enters a stormdrain or any other part of the stormwater system is considered an illicit discharge, which is prohibited by the County Code's Illicit Discharge and Illegal Connection (IDIC) Ordinance. DWR investigates potential illicit discharges into our surface waters. Visit the Protecting our Waterways page for more information about these pollutants. If you suspect a possible illicit discharge violation, please call 678.376.7000 immediately to report it.
DWR inspectors also are required to audit certain priority industrial activities. These audits are designed to assess compliance with the IDIC. Read more about industry specific water quality guidelines.
In addition to investigating potential pollution sources, DWR also regularly monitors surface waters throughout the county. Active and ongoing monitoring is an important component for DWR to be aware of the current conditions in county waterways and take steps to address and reduce any harmful impacts. To see real-time monitoring data, visit the USGS website.
The full monitoring, inspection and reporting is outlined in Gwinnett County's Stormwater Management Plan (SWMP). This plan includes information on Gwinnett County's maintenance of stormwater systems, illicit discharge detection and elimination, monitoring of impaired waterways, public education and involvement, industrial and highly visible pollutant source inspections, and stormwater controls. For questions about the SWMP please email dwrinfo@gwinnettcounty.com .
To protect our rivers and streams, we must maintain the health of the surrounding watersheds—the land that water collects on and flows over into these bodies of water. To improve water quality and aquatic habitats, DWR created Watershed Improvement Plans (WIPs) for every watershed in the county. These detailed WIPs provide information about the condition of streams, ponds, and the stormwater infrastructure. Using innovative computer modeling, DWR charts both current and projected future sediment loads carried in these bodies of water and designs projects for mitigating problems. DWR also helps develop and enhance standards and policies for new developments to help prevent an increase in these problems.
Managing Runoff and Surface Water
DWR is not only concerned with the quality of water in the county, but also the quantity of water that flows over the land and into our streams. DWR maintains, upgrades, and repairs the storm drains, pipes, and other stormwater infrastructure that collects rain from roads and moves that potential flood water to nearby streams and waterbodies. Learn more about how DWR maintains our existing infrastructure.
One of the main reasons for the existence of the entire stormwater system is to prevent flooding. A part of flood control is the maintenance and operation of dams throughout the county. DWR ensures that Gwinnett dams comply with all state and federal programs to ensure public safety. Gwinnett County also has approximately 24,000 acres of floodplain. Although there are natural benefits to a floodplain, we are aware of the safety concerns caused by flooding. Read more about floods and floodplains.
Managing stormwater involves implementing and inspecting many types of structures such as green infrastructure best management practices (BMPs) from the Gwinnett County Stormwater Management Manual. BMPs are designed to reduce the volume and velocity of stormwater runoff to prevent erosion. They can also capture sediment and pollutants before they enter local waterways. Some examples of BMPs include detention ponds, vegetated filter strips, swales, and retention basins. DWR regularly inspects all existing stormwater BMPs. Learn more about different BMPs and what you need to do to maintain your BMP.
In addition to implementing and inspecting man-made structures, DWR works with parks and schools to restore streams and other natural waterways. These projects return degraded streams to more natural flow patterns and conditions. DWR's engineers and scientists work with nature to protect and preserve these natural resources in public places.