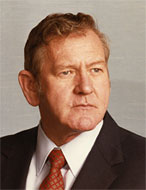 We regretfully announce the death of Sheriff (Ret.) Bobby G. Plunkett who passed away Sunday, July 19. Sheriff (Ret.) Plunkett was a longtime servant in law enforcement who worked in the Suwanee Police Department and served as Gwinnett County Sheriff from 1985 to 1992, Lawrenceville Police Chief from 1973 to 1984, and Gwinnett County Police Chief from 1968 to 1973. He also served in the United States Army during the Korean War.
He was married to Betty Jo Plunkett for 46 years before her death in 2003. He is survived by his son, Michael (Crystal) Plunkett; daughter, Gail (Doyle) Holder; three grandsons, Jacob Plunkett, Donnie Holder, and Shane Holder; one granddaughter, Tammy Wisham; seven great-grandchildren; and a host of nieces, nephews, and other relatives and friends.
Please keep Sheriff (Ret.) Plunkett's family, friends, and former coworkers in your thoughts and prayers.