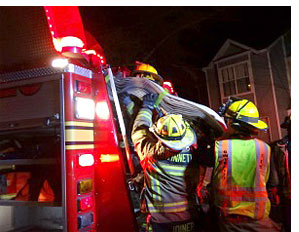 Whether house fire, chest pains, or vehicle accidents, Gwinnett County Department of Fire and Emergency Services answers the call. We provide high quality emergency response for a population of almost 960,000 people. Our service delivery model integrates fire suppression, emergency medical care, and community risk reduction to provide the highest quality of service for our community.
The department consists of 961 highly trained men and women. Each year, we respond to over 83,000 emergency calls with 31 strategically placed fire stations that house 31 engine companies, 11 ladder trucks, and 29 advanced life-support medical units.
We also have trained teams in place for technical rescue, hazardous materials, and swiftwater rescue situations. Our Training Academy provides training that exceeds state requirements and all firefighters receive ongoing fire and EMS training.