Get Involved
Get Involved
The Department of Water Resources (DWR) holds events year-round at locations throughout the county. There are numerous opportunities for you to get involved, give back, and learn more about water in our community.
Preregistration is recommended for some events. Look for a link with the event information.
Events and Workshops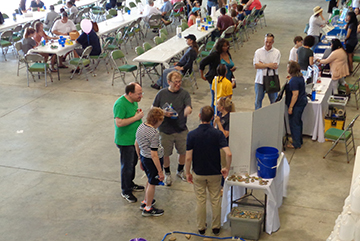 DWR provides free educational workshops on a variety of topics such as fixing leaks, building a rain barrel, and water-wise landscaping.
2024 Workshop Calendar
DWR also is happy to offer two large festivals each year, hosted at one of our award-winning facilities. At both festivals, you can take a tour of the facility, play games, make crafts, and enjoy free fairground food! Bring the whole family!
Events and workshops information
.
Clean up Your Community
Clean water depends on clean waterways and wetlands free of trash and harmful vegetation. DWR partners year-round with various community groups on cleanup initiatives and storm drain stenciling projects. From litter pickup to removing invasive species, do your part while getting out into nature!
Read more about cleaning up your community
.
In-School Programs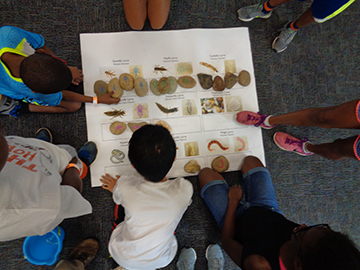 Kids want to make a difference too! Our
educational programs
travel to you and introduce water resource protection and water science concepts in a fun, hands-on way.
Request a Speaker
Guest speakers are available to present and facilitate discussions on water resources, conservation, and more. DWR also offers a display for open house events, expos, and festivals.
Our staff can bring brochures, do-it-yourself home water audits, children's materials, and other conservation tools to distribute to participants. We have presentations for all ages and events, including classrooms, community groups, homeowners associations, or realtor associations.

To request a guest speaker or materials, or for more information, please contact us at 678.376.6952 or DWRinfo@gwinnettcounty.com.
More Ways to Get Involved
Adopt-a-Stream
Take ownership of your waterways by participating in exciting activities such as monitoring water quality and bacteria at your local stream or creek. This program is available in partnership with Gwinnett Clean & Beautiful.
More Information
You can also learn more about DWR volunteer opportunities by signing up at VolunteerGwinnett.net and selecting Water Resources under "Search for projects by interest."
For more information on a wide range of topics, including conservation tips, how to protect water quality, how to find leaks, and homeowner responsibility, visit our Get Educated page.
Home Brewers Water Quality Report
The Water Resources lab created this report which is separate from the Water Quality Report and is specific to home brewers.
Parameter

Defined

Minimum Concentration Detected
Maximum Concentration Detected

Average Concentration

pH

Acidity level

6.67

7.94

7.28

Total Alkalinity (as CaCO3)

A measurement of dissolved alkaline substances in water that can neutralize acid.
dkh = a unit of water hardness, derived from the German Karbonathärte

0.67 dkh
(12 mg/L)

1.51 dkh
(27 mg/L)

1.09 dkh
(19.5 mg/L)

Bicarbonate Alkalinity (as HCO3)

A measurement of bicarbonate substances in water that can neutralize acid.

14.6 mg/L

32.9 mg/L

23.8 mg/L

Total Hardness (grains per gallon)

A measurement of how much calcium and magnesium are in the water.

.88 gpg

1.75 gpg

1.28 gpg

Calcium

Calcium is an element that is essential to life; it gets into the water through contact with rocks and soil.

4.98 mg/L

9.06 mg/L

6.68 mg/L

Magnesium

Magnesium is an element that is essential to life; it gets into the water through contact with rocks and soil.

1.43 mg/L

1.81 mg/L

1.59 mg/L

Sodium

Sodium is an element that is essential to life; it gets into the water through contact with rocks and soil.

4,500 µg/L

4,500 µg/L

4,500 µg/L

Chloride

Chloride is an important naturally occurring element; it gets into the water through salt deposits that the water comes in contact with and through water treatment.

5.85 mg/L

8.98 mg/L

6.91 mg/L

Sulfate

Sulfate is a naturally occurring chemical that enters the water naturally as well as from human activities such as fertilization or industrial activities.

2.18 mg/L

3.80 mg/L

2.71 mg/L