Get Involved
COVID-19 Update: Events
As a result of the ongoing COVID-19 pandemic and associated CDC guidelines for events and gatherings, some of DWR's programs have been altered to keep our participants and our staff safe. Many of our events and workshops have gone virtual! Our volunteer opportunities have shrunk in size, but not in effect. We are still cleaning streams and removing invasive species, just in smaller groups. Be sure to check back on this page to find new event listings and volunteer opportunities. If you have ay questions or would like to register for a workshop or volunteer opportunity, please send an email to DWRworkshops@gwinnettcounty.com, or call 678.376.7193, option 5.
Get Involved
The Department of Water Resources (DWR) holds events year-round at locations throughout the county. There are numerous opportunities for you to get involved, give back, and learn more about water in our community.
Preregistration is recommended for some events. Look for a link with the event information.
Household Hazardous Waste Collection Day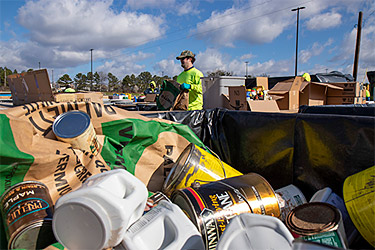 The next Household Hazardous Waste Collection Day will be July 2022. Come and join us to safely drop off your HHW for reuse, recycling, or disposal.


Date: July 16, 2022
Time: 8:00 AM - 11:00 PM
Location: Gwinnett County Fairgrounds
2405 Sugarloaf Pkwy., Lawrenceville 30045
Phone: 678.376.6785
What to expect
When you arrive, there may be a line of attendees dropping off their HHW. Collection of these materials requires specially certified staff and processes and can result in a small wait. Here are some tips to help you prepare for a safe and successful visit:
Please come prepared with water and a snack in case the line backs up
No portable restrooms will be available
Containers will not be returned; it is suggested to bring materials in disposal containers or boxes
All attendees are required to stay in their cars at all times
For more event details, including accepted items, visit our partner's webpage at www.gwinnettcb.org.

The most prevalent type of HHW collected at these events is paint. In many cases, paint can be disposed of at home. Watch the below video for tips on how and when to consider disposing of your paint containers at home. In addition, we have a video version of our HHW Workshop that can offer useful information for how to dispose of recycle many Household Hazardous Wastes.
Events and Workshops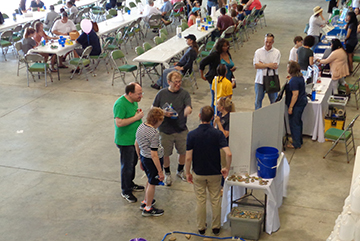 DWR provides free educational workshops on a variety of topics such as fixing leaks, building a rain barrel, and water-wise landscaping.
2022 Water Resources Workshop Calendar (PDF)
.
DWR also is happy to offer two large festivals each year, hosted at one of our award-winning facilities. At both festivals, you can take a tour of the facility, play games, make crafts, and enjoy free fairground food! Bring the whole family!
Events and workshops information
.
Clean up Your Community
Clean water depends on clean waterways and wetlands free of trash and harmful vegetation. DWR partners year-round with various community groups on cleanup initiatives and storm drain stenciling projects. From litter pickup to removing invasive species, do your part while getting out into nature!
Read more about cleaning up your community
.
In-School Programs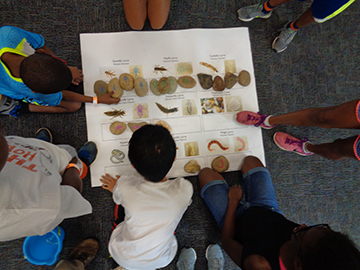 Kids want to make a difference too! Our
educational programs
travel to you and introduce water resource protection and water science concepts in a fun, hands-on way.
Request a Speaker
Guest speakers are available to present and facilitate discussions on water resources, conservation, and more. DWR also offers a display for open house events, expos, and festivals.
Our staff can bring brochures, do-it-yourself home water audits, children's materials, and other conservation tools to distribute to participants. We have presentations for all ages and events, including classrooms, community groups, homeowners associations, or realtor associations.

To request a guest speaker or materials, or for more information, please contact us at 678.376.6952 or DWRinfo@gwinnettcounty.com.
More Ways to Get Involved
Adopt-a-Stream
Take ownership of your waterways by participating in exciting activities such as monitoring water quality and bacteria at your local stream or creek. This program is available in partnership with Gwinnett Clean & Beautiful.
More Information
You can also learn more about DWR volunteer opportunities by signing up at VolunteerGwinnett.net and selecting Water Resources under "Search for projects by interest."
For more information on a wide range of topics, including conservation tips, how to protect water quality, how to find leaks, and homeowner responsibility, visit our Get Educated page.