The Bush Creek Watershed Improvement Project is currently underway downstream of Bush Road, between River Hollow Run and Riveredge Drive, in the city limits of Peachtree Corners. This project will rehabilitate approximately 2,800 linear feet of Bush Creek and approximately 700 linear feet of a tributary to Bush Creek.

The rehabilitation will stabilize the stream, improve water quality and habitat in the stream, reduce erosion and sediment loading into the Chattahoochee River, and protect the watershed from additional damage. The pictures on the left and right display a recent watershed improvement project off Ronald Reagan Parkway.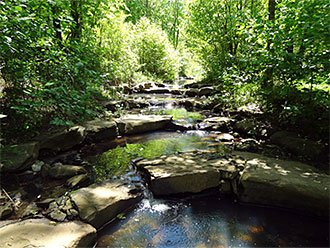 The project is managed by the Gwinnett County Department of Water Resources in cooperation with city of Peachtree Corners. The project is designed by Brown and Caldwell Engineers and Consultants and is being constructed by Site Engineering Inc.

For more information about this project, please contact, Pete Wright, P.E. at pete.wright@gwinnettcounty.com or 678.376.6948. For information about Gwinnett County's Watershed Improvement Program, click here.

You can do your part to protect our local waterways through the Adopt-A-Stream program, coordinated by the Department of Water Resources and Gwinnett Clean and Beautiful. For more information on how to volunteer, visit http://www.gwinnettcb.org/.