Transit Plans and Projects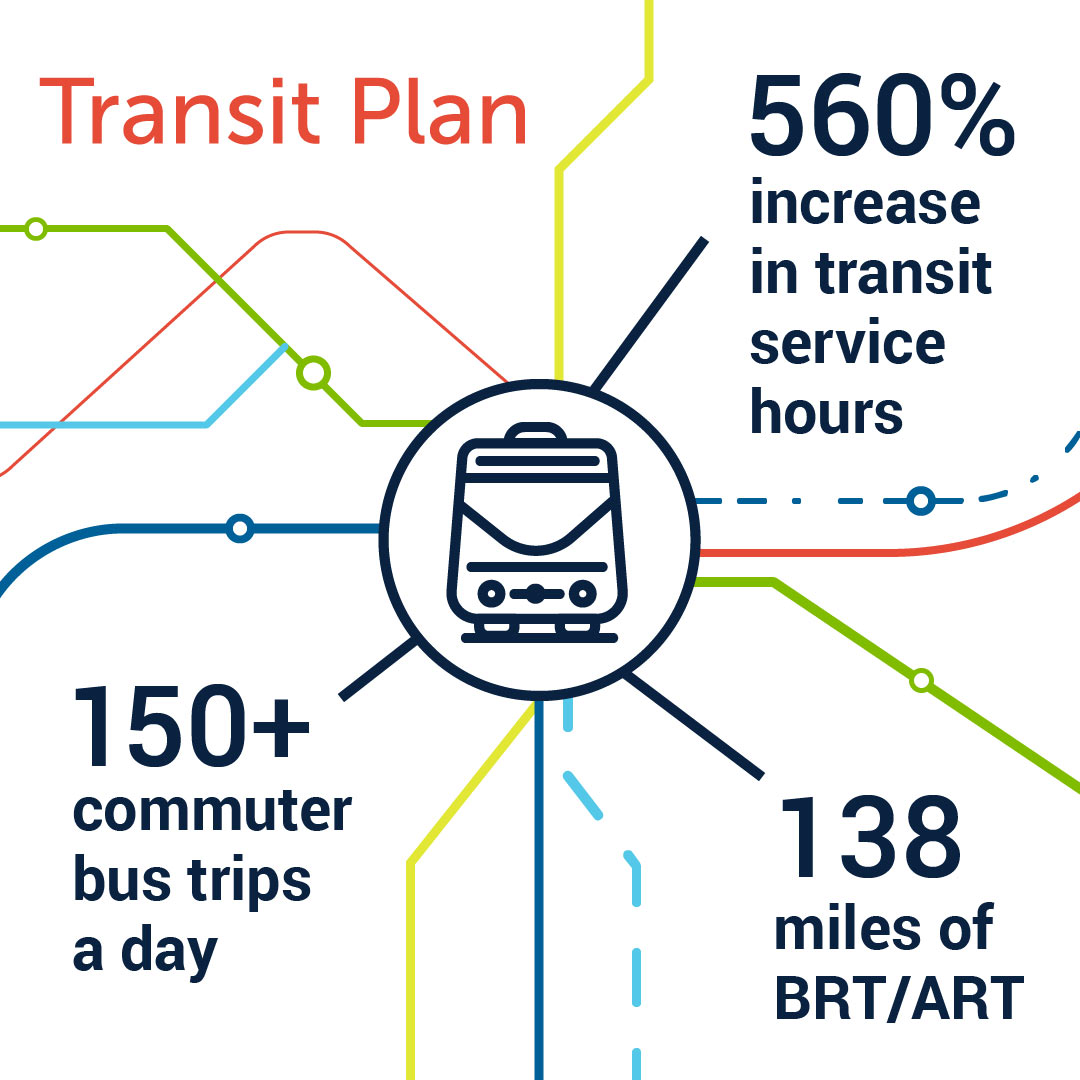 Learn the facts about Gwinnett transit plan
In November 2020, Gwinnett residents had the opportunity to invest in 82 major transit and infrastructure projects using a one-percent transit sales tax. Compared to previous plans, the Gwinnett Transit Plan outlines more transportation choices on a faster timeline, while giving Gwinnett County local control of funding, design, construction and operation of the transit system.
More impact. The Gwinnett Transit Plan enables transit service and infrastructure additions that positively impact more Gwinnett residents. As Gwinnett continues to experience rapid growth, this transit plan offers solutions to help address the challenges growth brings, particularly on roadways.
More options, delivered sooner. Critical portions of premium, high-capacity transit services – like bus rapid transit and arterial rapid transit – will be completed in the first 10 years of the Gwinnett Transit Plan. New microtransit and paratransit services, along with expanded bus, bike and pedestrian networks, will enhance transportation options across the county.
More connections to more jobs, now and in the future. Expanded commuter bus, vanpool and paratransit systems, plus added park-and-ride lots serving nearly every Gwinnett city, connect the county to major employment centers in Downtown/Midtown Atlanta, Buckhead, Perimeter, Emory/CDC, and Athens. These routes are further supplemented by new all-day service that provides access to park-and-ride lots from three MARTA rail stations.
Local control, putting Gwinnett County in charge of Gwinnett transit. The Gwinnett Transit Plan puts the county in control of its transit planning, funding, projects and services. The one-percent sales tax benefits Gwinnett to pay for local transit projects, with the assistance of federal and state dollars plus funds collected from fares. Only the rail line connecting Gwinnett's new Multimodal Hub at Jimmy Carter Boulevard to MARTA's Doraville Station will be operated by MARTA.
Stay informed by viewing in different languages:
Watch in Vietnamese https://vimeo.com/469744566
Watch in Chinese https://vimeo.com/469744484
Watch in Spanish https://vimeo.com/469744426
Watch in Korean https://vimeo.com/469744335