Service Districts Explained
Service Districts Explained
Background
State law requires that cities and counties operate under a service delivery strategy (SDS) agreement that defines the services to be provided by each jurisdiction and sets out how those services are funded.
After several years of litigation and a court order, Gwinnett County and 15 cities reached a negotiated settlement in early 2012. The settlement allowed all of the parties to have input into the final outcome versus being required to implement the court order. As a result, the parties entered a new SDS agreement that created four new service districts (effective January 2013) and changed the way Gwinnett County budgets for and provides certain services.
Service districts affect the way property owners pay for these services. Gwinnett County property tax bills now reflect millage rates based on where a property is located and what services are provided by county government. In other words, property owners who benefit from specific county-provided services pay a dedicated millage rate for those services.
Fire and Emergency Medical Services District
Loganville Emergency Medical Services District
Police Services District
Development and Enforcement Services District
Recreation Fund
Economic Development Fund
Click here
to watch an informative video or continue reading to learn more about the service districts.
Our Property Tax Calculator shows you the property tax for your specific property and where those dollars go. You can also use a generic fair market value in the calculations.

Please see the chart below for the County government's property tax rates for 2021.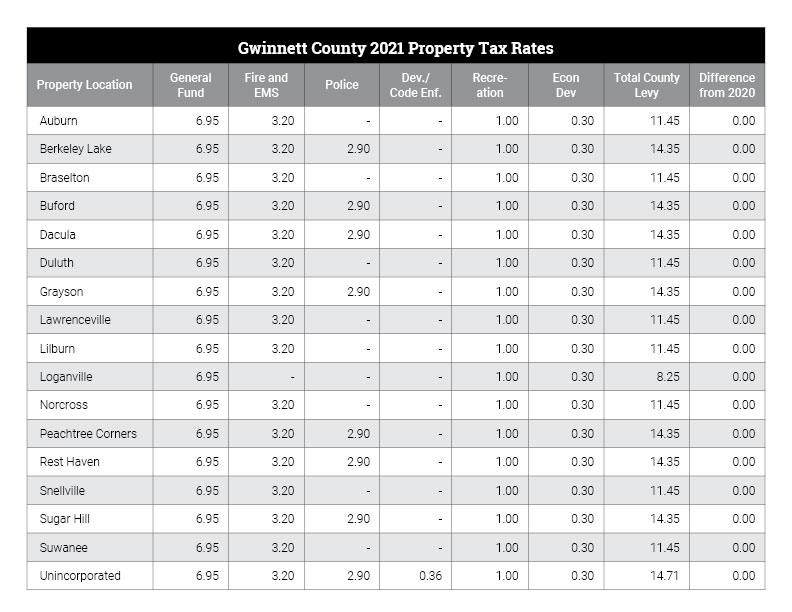 For a larger view of this chart, click here.
Click here
to view a five-year history of the County government's tax digest and levy.
To view last year's property tax rates,
click here
.