Armed Robbery Suspects Caught after their Car Runs Out of Gas
(Stone Mountain, Georgia) A pair of armed robbery suspects were captured early Tuesday morning after their car ran out of gas.
On December 5, officers assigned to the South Precinct were dispatched to an Armed Robbery in front of a grocery store at 1227 Rockbridge Road in unincorporated Stone Mountain. Once officers arrived on scene, they met with the victim. The victim told the officers that as he was walking back to his car around 1am, he noticed a red passenger car parked near his. As he approached his car, two individuals from inside the red car got out and began pointing guns at him. The victim gave the suspects his wallet, and they eventually fled in the red car.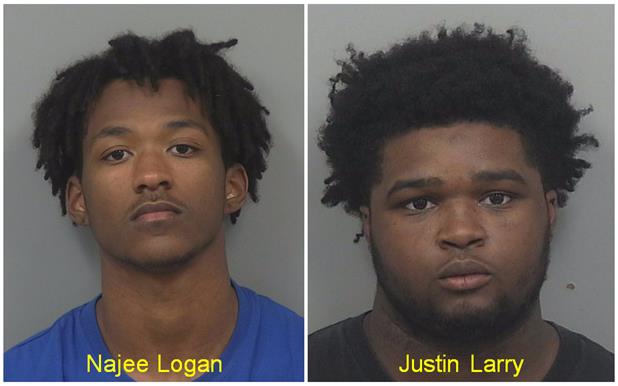 The victim provided a detailed description of the suspects and the car they were driving in. And, the first responding officer provided that description to other officers in the area.
Less than 15 minutes later, another officer located a red car on Five Forks Trickum Road near Cole Drive. He approached the two occupants of the car and discovered that they had run out of gas.
While searching the vehicle for an unrelated drug charge, the officer noticed items that may have been linked to the previous armed robbery. Both suspects, Najee Logan (age 18, Snellville) and Justin Larry (age 21, Lilburn) were eventually arrested and charged with Armed Robbery. Logan was additionally charged with Giving a False Name to Officers. Logan and Larry were both transported to the Gwinnett County Jail.
Fortunately, the victim was not hurt during this violent crime. And, because of poor planning these suspects were captured before they could victimize anyone else.