UPDATE #3: Suspects Charged in Kendrix Ridge Dr Homicide
Update #3, 12/12/2019: Ian Jabar Longshore has still not been taken into custody. The Gwinnett County Police Department would like to remind the public that they could receive reward money through Atlanta Crime Stoppers for information leading to Longshore's arrest. Tipsters should call 404-577-TIPS (8477) or visit www.stopcrimeATL.com.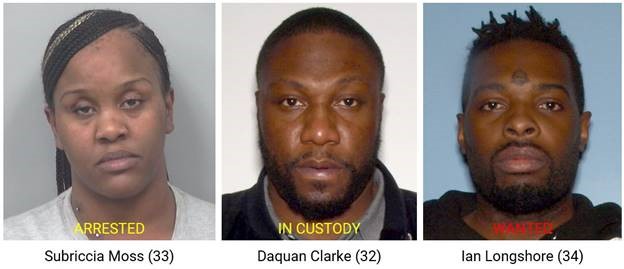 Update #2, 10/11/2019: Three suspects have been identified in this case. One suspect is under arrest, one suspect is in a local hospital, and one suspect is on the run.
Subriccia Moss (age 33, Lithonia) was arrested on Wednesday, October 9, and charged with Felony Murder and Unlawful Eavesdropping or Surveillance. She is currently at the Gwinnett County Jail with no bond.
Daquan Rashad Clarke (age 32, Lithonia) has been charged with Felony Murder and Armed Robbery. He is currently at Grady Hospital in Atlanta recovering from injuries in an unrelated incident. Upon his discharge, he will be placed under arrest.
Ian Jabar Longshore (age 34, Decatur) has been identified as another suspect in this case. He has two active warrants for Felony Murder and Armed Robbery. His current whereabouts are unknown.
Investigators believe that the motive for this crime was robbery. We believe the victim was placed under surveillance by the suspects prior to the crime.
If anyone knows the whereabouts of Ian Longshore, please call Crime Stoppers at 404-577-8477.
Update #1, 10/07/2019: The victim in Friday night's homicide has been identified as Sukkee Hong (age 49). He was an Asian man who lived at the home where the crime took place.
Based on the preliminary investigation, detectives believe that Mr. Hong was shot by an unknown number of suspects as he was exiting his car inside the garage of the home.
Following the incident, members of the household found the victim unresponsive on the ground in the garage. GCFD was dispatched to a possible medical call at the home. Once the victim was examined by members of the Gwinnett County Fire Department, it was discovered that Mr. Hong was suffering from a gunshot injury. He later died at the hospital.
Detectives are still trying to confirm what, if anything, was stolen from the victim.
Mr. Hong was the owner of a check cashing business in Lithonia, so detectives are looking in to the possibility that this incident could be related to his business.
Original, 10/04/2019: (Buford, Georgia) The Gwinnett County Police Department is actively investigating a homicide that occurred shortly after 10:00pm at 5811 Kendrix Ridge Drive in unincorporated Buford.
Gwinnett officers assigned the North Precinct responded to the home after a family member found the victim, a 50 year old male, in the garage with significant head trauma. Gwinnett County Fire Department transported the victim to a local hospital where he died.
The motive for the crime appears to be theft and/or robbery. There is no suspect information to release at this time. The victim's identity is being withheld pending next of kin notification.
If anyone has any information to share in this case, please contact GCPD detectives at 770-513-5300. To remain anonymous, tipsters should contact Crime Stoppers at 404-577-TIPS (8477) or visit www.stopcrimeATL.com. Crime Stoppers tipsters can receive a cash reward for information leading to an arrest and indictment in this case. Case Number: 19-091941