2010recruits
2010 Firefighter recruits graduate
The Gwinnett County Department of Fire and Emergency Services graduated 48 new recruits in 2010. Family and friends of the new firefighters, elected officials, and Fire and Emergency Services personnel attended the ceremony held at Hebron Baptist Church in Dacula.

Fire Chief Bill Myers and Assistant Fire Chief David Dusik presented certificates and badges to all 48 graduates. The new firefighters are: Jody Addison, Johnny Bowman, Scott Brown, Adrian Castellanos, Gloria Dow, Jimmy Easterlin, Michael Emerson, Brent Forrester, Jason Gantt, Adam Hardigree, Justin Harrell, Megan Holmes, Mark Hughes, Jason Jones, Caleb Jordan, Will Kinard, Blaze Lottinger, Brian Martin, Gabe McKay, Nathan McMichael, Jake Murell, Mike Newport, Adam Parker, Dip Patel, Brandon Peevy, Codey Pitts, Tim Powell, Seth Pugh, Miguel Rivera, Charlie Rolader, Jason Rowland, Matthew Rowland, Adam Rudnik, Stanley Samek, Clay Scott, Denny Scott, Aleks Shaverin, Michael Shaw, Ashley Smith, Heath Stanley, Ray Swords, Stephen Thomas, Kassi Thoreson, Ryan Wagoner, Anthony Weatherford, Dustin Wilkerson, Jeremy Williams, and Justin Wills.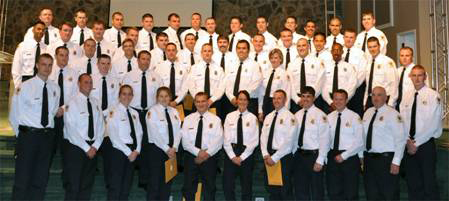 If you are interested in seeing if you have what it takes to serve as a firefighter, check out the fire employment webpage.