February 2011 Graduates
On February 18, 2011, the Gwinnett County Department of Fire and Emergency Services graduated 20 new recruits. Family and friends of the new firefighters, elected officials, and Fire and Emergency Services personnel attended the ceremony held at the Gwinnett Justice and Administration Center in Lawrenceville.

Fire Chief Bill Myers and Assistant Fire Chief David Dusik presented certificates and badges to all 20 graduates. The new firefighters are from left to right. Front Row: Bradley Jay Hamer, Joseph Guyton Walker, Jody Wayne Random, Matthew Brett Miller, Ruben Dario Ponce, Robert Bruce Parr, John Anthony Strickland, Griffin Phillip Johnson, Robert Kirt Glover, and Michael Ryan Salain. Back Row: Thomas Brent Johnson, James William Jenkins III, David Keith Benton Jr., Brandon Burgess, Samuel James Garrison, Michael Joseph Korb, Tyler Jonathan Stephens, Alfredo Jose Nunez, William Clay Berkhan, and Joshua James Spearman.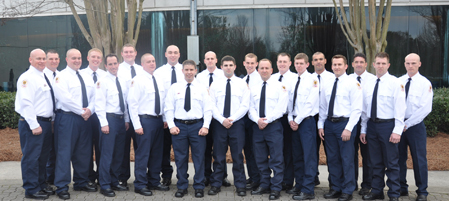 If you are interested in seeing if you have what it takes to serve as a firefighter, check out the fire employment webpage.