New firefighters graduate from Gwinnett's Fire Academy
The Gwinnett County Department of Fire and Emergency Services recently hosted a graduation ceremony for 31 rookie firefighters. The ceremony was held on December 11, 2009, at the Gwinnett Justice and Administration Center. According to Fire Chief Bill Myers, it was the first standing-room-only crowd that he could remember in his 26 years attending graduations.
Chief Myers recounted the contents of a letter he had recently received regarding the department's response to an emergency call. It came from a woman who lost her husband of 60 years. She thanked the department for its compassion and help in getting her through the most devastating time of her life. "That is the difference between doing a job and answering a calling," said Myers.
The class of 30 men and one woman successfully completed a total of 972 hours of basic firefighter and emergency medical technician (EMT) training. Each course is physically and academically challenging and includes certifications in several disciplines: NPQ firefighter levels I and II; hazardous materials awareness and operations; emergency response to terrorism; firefighter assist and survival; and national registry emergency medical technician-intermediate level, or NREMT-I. The class scored overall highest in the state on the firefighter and hazmat certification testing, and two of the graduates actually scored a perfect 100 on the state firefighter written test. "The class excelled in every aspect of their training," said Fire Academy Lieutenant Scott Davis.
Special guest speakers at the graduation included Ray Mattison, Gwinnett's first-ever fire chief, current Fire Chief Bill Myers, District 1 Commissioner Shirley Lasseter, District 3 Commissioner Mike Beaudreau, and County Administrator Glenn Stephens. Chief Mattison urged the new firefighters to always keep their heads full of knowledge and their hearts full of compassion. "What a road you're about to travel," Mattison said. "You are each a special person performing a special task."
The newest firefighters joined the ranks of the fire service family and received their badges at the ceremony. They will be assigned to fire stations across the county, filling positions vacated by recent retirements. During their first year in the station, rookie firefighters are required to complete a series of knowledge, skills, and abilities assessments in order to be eligible for promotion to the next level.
Fire Recruit Class 2009-2 Graduates
| | | |
| --- | --- | --- |
| Jimmy Barnwell | David Klein | Jessica Pazinets |
| Keith Boling | Jeb Krause | Ben Presten |
| Corey Bowles | Kevin Lamb | Mark Stolp |
| Zach Brooks | Peter Lanio | Tyler Thomas |
| Bob Bryan | Joshua LeBlanc | Jason Turgeon |
| Brent Butler | Blake Mattison | Logan Wade |
| T.J. Crowe | Kyle Morrision | Josh Ward |
| Todd Davis | Jody Moss | Chad White |
| Kasey Fields | Alex Nash | Shane White |
| Lorenzo Jones | Jeff Olver | |
| Brant Keiser | Chase Parker | |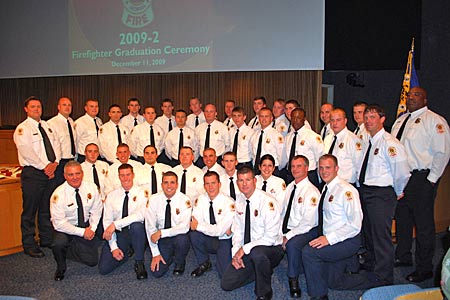 Class Award Recipients
Top Rung Award - David Klein
Academic Award - Jessica Pazinets
Physical Fitness Award - Corey Bowles
Values Award - Kevin Lamb