Fourth paramedic class graduates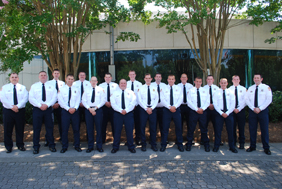 The Gwinnett County Department of Fire and Emergency Services' fourth paramedic class graduated on July 30 after accomplishing 981 hours of intensive training. Family and friends of the paramedics, elected officials, and public safety personnel attended the ceremony held at the Gwinnett Justice and Administration Center in Lawrenceville.
All 17 graduates are veteran Gwinnett County firefighters and emergency medical technicians who have chosen to enhance their skills in the area of advanced pre-hospital emergency medical care. The new paramedics will be sent back to the field where they will perfect their skills on ambulances and paramedic engine companies throughout the county.
The new paramedics are (left to right): Instructor Rob Andrews, Keith King, Brian Keyeck, Jeff DerCola, Scott Bechthold, Cevan Hokett, John Wharton, Matt Brown, Grant Eichenlaub, Aaron Blackwell, Chase Robinson, Chad Sheppard, Jason Smith, Brad Sheppard, Sean Ballisty, Jonathan Myers, Justin Moody, and Instructor Chad Bird. Not pictured: Michael Simmons.