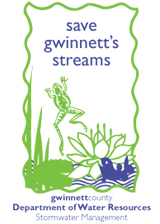 Recognizing that one of the most effective ways to protect water quality is through pollution prevention, Gwinnett County has a variety of information and education programs designed to encourage environmentally responsible behavior at home, school, and work. Getting the information where it is most effective has been a truly cooperative effort by the Storm Water Management, Gwinnett Clean And Beautiful, the Gwinnett Extension Service, the Department of Environmental Health, Collections and Distributions, Planning and Development, Parks and Recreation, Adopt-A-Stream, Gwinnett Schools and other State and Federal Agencies. The following are some of programs and activities sponsored or promoted by Gwinnett County.

Adopt-A-Stream- Provides information and assistance to the public regarding non-point source pollution, stream monitoring, protection and restoration. Workshops are provided for teachers, students and the general public on EPD's Monitoring protocol, which helps promote the protection of our fragile aquatic ecosystem. For more information about Adopt-A-Stream or to volunteer, please click here or call 770.822.5187.




Storm Drain Stenciling - A program to help educate the public about non-point source pollution. Volunteers stencil NO DUMPING LEADS TO STREAM on catch basins and distribute door hangers shaped like fish to all homes in the subdivision. Door hangers provide information about non-point source pollution and how citizens can get involved. For more information or to volunteer, please click here or call 770.822.5187.




Stream clean-ups and shore sweeps- Participants pick up trash they find along a lake shoreline or stream bank. Clean-up events are held at various streams and lakes around Gwinnett County. These events are scheduled every spring and fall, so the next opportunity to help keep our waterways clean is never far away. For more information or to volunteer, please call 770.822.5187.



Working with the Schools - To educate students about non-point source pollution, the Gwinnett Adopt-A-Stream staff works closely with Gwinnett County schools, providing education and information on preventing pollution and protecting water quality. Storm Water Management has purchased several Enviro-Scape models for use in Gwinnett County Schools. These models are a hands-on way of presenting the concepts of watershed management and non-point source pollution to the general public. The Enviro-Scapes are miniature landscapes that allow teachers to show how improper land uses can adversely affect water quality. The Enviro-Scape models can be used to demonstrate non-point source pollution, wetland delineation, and a landfill's impact on water quality by producing leachate. Gwinnett County Storm Water Management utilizes the Gwinnett Clean & Beautiful Education Coordinator to work with teachers from the Gwinnett County Public School system. Once teachers are trained in the use of the models, they are provided with lesson plans and may borrow models to use in their classroom for a period of one week. For more information, contact "Gwinnett Clean & Beautiful" at 770.822.5187.
Informational Publications and Brochures - Gwinnett County has a variety of publications and brochures available. To see some of the brochures see Brochures. Storm Water has a library of publications including information on non point source pollution, Total Maximum Daily Loads (TMDL's), detention pond maintenance, and on-site septic maintenance systems. These materials include books videotapes, compact disk and pamphlets. For more information on what is available contact our office at 678.376.6826 .